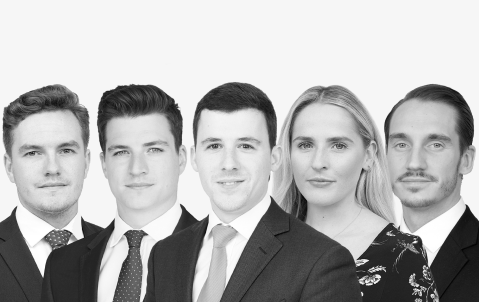 60 seconds with… the Flood team
The Hiscox Flood team have been at the forefront of Hiscox's London Market's digital revolution in recent years - a strategy that has seen us become the pre-eminent private flood insurer for small-ticket risks in the US. Our team combines cutting edge pricing algorithms with a depth of underwriting experience in order to deliver a suite of best in class products to our London broker and US coverholder partners. The flood market in the US is in a period of dislocation at present, with the government backed NFIP having an unprecedented overhaul of their decades-old rating manual. In this moment of uncertainty, we aim to provide a greater alternative to homeowners and small business owners across the US. I hope you enjoy reading our 60 seconds and if you'd like to find out more about flood please don't hesitate to get in touch.
Daniel Alpay - Flood Line Underwriter
Daniel Alpay
What is your role at Hiscox? 
I'm the Line Underwriter of the Flood business.
What are your key priorities over the next six months?
My key priorities over the next 6 months are twofold. Firstly, we are going through an upgrade of our product offering from both a policy and systems perspective to ensure that we are delivering the best possible solutions we can to our distribution partners and end clients. My second priority is to ensure that the flood business is set up for future success. We have seen great compound growth over the last 4 years, and we need to ensure that we can scale without sacrificing system performance and underwriting integrity. This means moving our system to the cloud to ensure stability and scalability whilst  reviewing our distribution base and product balance.
What do you predict will be the biggest threats that your clients will face in the next 3-5 years?
I think there are two main threats that our clients will face in the next 3-5 years. The first and most obvious is the impact climate change may have on increased frequency and severity of flooding events, Hurricane driven or otherwise. Climate change is certainly a much longer term issue but it's hard to deny we are in a period of heightened catastrophic activity and this is undoubtedly a threat to our clients. The second threat is more market focussed and stems from the NFIP completely overhauling their pricing algorithm this April, for the first time in decades. This is going to cause inevitable dislocation in the market and leave many customers seeking solutions. It also creates logistical issues for our distribution partners on a scale they may not have faced before. We need to ensure that we are ready to support both our partners and clients in offering competitive solutions in the most streamlined manner possible.
Tom King
What 3 words best describe being an underwriter?
Collaborative, innovative and approachable.
What has been your biggest achievement so far at Hiscox?
During my time working on flood, I was part of the small team who developed and launched Hiscox's award-winning proprietary US flood product, FloodPlus. Since its launch, FloodPlus has won a number of awards including 'Best Product Innovation' at the Lloyd's Innovation Awards, and the growth of the product has allowed Hiscox to become a market leader in private flood.
What should someone know about you that isn't on your CV?
Outside of work, I am a long-term, committed Fantasy Football player. The data analytics, strategic planning and financial management isn't too dissimilar to underwriting!
Sara Godfrey
How did you get into insurance?
I joined the insurance industry when I was 18 on the first apprenticeship scheme. I wanted more options than just university and was keen to go straight into work after school. Like most people, it was a bit of a fluke to end up in insurance as I didn't really know what career I wanted.
What do you love most about working in the Hiscox Flood team? 
Our book is in a growth phase at the moment which provides great opportunities to speak to new clients and have positive conversations. This is despite active catastrophe seasons and an evolving market place.
What has been the best skill that you have developed since working at Hiscox?
The ability to work well under pressure, whether this is working to renewal deadlines or underwriting face to face at Lloyd's. It requires confidence in your own knowledge which is an important skill to have.
Joseph Pennyfather
What attracted you to Hiscox? 
Hiscox has always held a stellar reputation and cutting my teeth on the US property side meant I viewed Hiscox in high regard as a peer, lead market. This, coupled with a strong focus on innovation, the quality of its staff and the desire to lead with an entrepreneurial mindset meant it was extremely attractive. The direction of travel here at Hiscox is clear and it's great to be part of the journey.
What has been the highlight of your career so far?
Joining Hiscox, clearly! But on a serious note, rather than stick to a single highlight I think the personal and professional progression is always something I look back on. Given the cyclical nature of our industry, things aren't always plane-sailing. But it's important to take lessons from the tough times then adapt and apply. Relationships have always been a key part of the market, and when I reflect on all of those individuals I've met and traded with, either in the UK or across the pond, it's clear people really are the heart of this market and the key to success. You are always learning in this industry and each year you should be able to look back and recognise growth. Being part of a company that supports that is integral. Remember, your best times are always ahead of you! 
What would be your advice to anyone who is working towards their ACII qualification?
My advice would be to knuckle down and complete each segment within a desired time-frame. I'd keep that time-frame as tight as possible as it helps to keep in the flow of studying and exam taking. The format has changed slightly since I completed mine, but I'd still recommend choosing exams that are relevant to your path and career choice. Here, you will retain some key and relevant information that you can refer back to in the years ahead. Nothing beats experience but the detailed courses will give you a great base to build on.
Chris Payne
What advice would you give to someone starting out in the industry?
Don't be afraid to ask questions! It is a great way to learn from others and the industry can be quite complex and daunting at first, with a lot of confusing acronyms and phrases being used.
How would you describe the Hiscox London Market Flood team in 3 words?
Dynamic, fun and innovative.
What are you most looking forward to now that we are emerging out from the pandemic?
From a work perspective, definitely the face-to-face interaction with my team, brokers and clients. At this stage in my career I feel it is vital I develop these relationships. Outside of work, I think being able to do all the activities the pandemic halted; food and music festivals, travelling and going on holidays with friends and family.