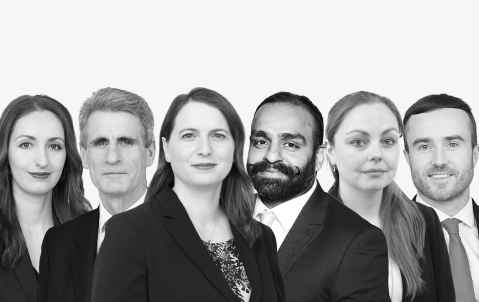 60 seconds with… the General Liability team
20th April 2022
"I'm excited to lead the US General Liability team at Hiscox, one of the most trusted and influential Lloyd's syndicates. Our team is made up of underwriters who have an extensive amount of industry experience in claims management, binder underwriting, casualty reinsurance with the ability to tackle the most complex liability risk challenges. I hope you enjoy reading our 60 second article, and if you'd like to find out more about the ways that we could support you and your clients, please don't hesitate to get in touch"
Lara Frankovic - General Liability Line Underwriter
Lara Frankovic
How did you get into insurance?
Like many in the industry, I 'fell into insurance'. After graduating, I worked in an investment bank for a couple of years. Although I enjoyed my time there, I wanted to work in an environment that provided less routine and more uncertainty as to what the day was going to look like. I also wanted a role that challenged me to problem solve. I certainly found all of this (and more) in insurance!
What are the priorities for your team over the next 6 months?
With most of our underwriters having joined the team in the past 6 months, our main priorities are to continue developing our broker and client relationships. We are aiming to create a strong team identity within our marketplace and execute our SPARK strategy, which has just launched with our brokers.
What are the biggest challenges your clients are facing at the moment in the General Liability world?
Litigation funding is fuelling social inflation. Which in turn is fuelling insurance prices and making it difficult for our clients to be able to fully transfer their liability risks into the insurance market.
Louise Jones
What drew you to the insurance industry?   
I was drawn to the energy of the industry, the people in it and the drive that they have to finding solutions. The combination of historic traditions and forward thinking was a big draw for me.
What are you most looking forward to in your new role at Hiscox?
I'm looking forward to meeting with clients and brokers again. After working from home during lockdown and being on maternity leave, I am excited to deal with people face to face again.
What three words best describe the insurance industry? 
Essential, Committed and Evolving.
Neil Smith
What are the big changes that you have seen in the insurance industry since you joined the in 1979?
The biggest change, unfortunately not for the best, has been the use of email largely taking place of face-to-face negotiation.
What has been the highlight of your career so far?
I have had many highlights! However, I think moving into underwriting after 22 years of broking was the most satisfying for me.
What advice would you give to someone starting out in insurance?
Work hard and always be professional; the rest is largely out of your hands.
Charlotte Young
What's the best and worst thing about being a General Liability underwriter?
The best thing about being an underwriter is that the travel opportunities are excellent. Plus, working on a GL book means that you get a real insight into the formative companies that are driving innovation in our world, and you have the opportunity to meet with the people behind FSTE 500 companies face to face and find out more about what the future of their services and products look like.
The worst thing about being an underwriter is that you are never 'done' with your role in general liability. This a bit of a double-edged sword as this keeps our role interesting. There are always new emerging risks to research and the products and services that we insure are constantly evolving. Therefore, the scope of risks on your horizon are very broad to contemplate sometimes.
What one piece of advice would you give to someone starting their career as an underwriter?
Never forget that this is a very human-centred industry. Therefore, your reputation holds significant value.
What 3 words would you use to describe Hiscox London Market?
Determined, lively and complex.
Taz Randhawa
How did you get into insurance?
Before I went to university, I worked in a local company in claims for almost a year. After completing my maths degree, a friend I knew was working in the city and got me an interview for a claims role, I then started work two weeks later and I have never looked back since. It's a great industry to work in. 
What inspired your move from claims to underwriting?
After spending 18 years of seeing what could go wrong, I thought it would be a great challenge to assess and write risks on the front end. Also in claims, I most enjoyed the negotiation and client facing aspect of the role which are of course key components of underwriting. I didn't want to spend my whole career in one area of the business so I'm grateful to have the opportunity to do something different at Hiscox.
What do you enjoy most about your job?
I love the fact that our market is built on relationships. I enjoy building relationships with colleagues and external stakeholders. It's great working with colleagues in different parts of the business and constantly meeting different clients, London brokers and US producers. Most of the team will probably say I'm best at the social aspect of the job.
Liam Harvey
What attracted you to Hiscox?
I was attracted to Hiscox by the outstanding reputation of the team as well as the broad range of risks that the team underwrites.
What is the most interesting part of being a General Liability underwriter?
Each risk that we underwrite is truly different in terms of exposures which means that no two days are the same, giving a great amount of variety to the work.
How would you describe the Hiscox General Liability team in three words?
Experts, Diverse, Dynamic.