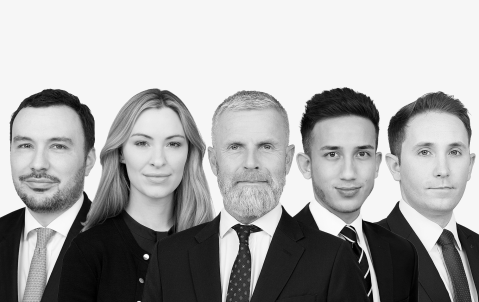 60 seconds with… the D&O team
"I'm excited to lead the new fully resourced and experienced D&O team at Hiscox. With the largest team of underwriters in the book's history, we are looking to grow the portfolio and have broadened our appetite to further support our brokers and clients. The D&O liability insurance market continues to be extremely challenging due to the withdrawal of a number of insurers and the combined impact of increased worldwide litigation trends, large market claims settlements and the continued fall out from COVID-19; we are very much open for business, and we look forward to working with our brokers to find the best solutions for our clients." 
Steven Pearsall, D&O Line Underwriter 
Steven Pearsall 
What is your role at Hiscox?  
I am the Line Underwriter for D&O at Hiscox London Market. 
What are your key priorities over the six months?   
Over the next 6 months, I am planning to rebuild the D&O team here at Hiscox and rebuild the brand within the wider market. I will prioritise my time stabilising the book and work on communicating and implementing the new strategy and appetite for the business. We will also be taking advantage of our favourable conditions whilst remaining disciplined.  
What do you predict will be the biggest threats that your clients will face in the next 3-5 years?  
D&O is a constantly evolving area. However, ESG is becoming more and more of a hot topic. We are also seeing more tech and cyber threats along with collective actions outside of the US and increasingly litigious territories worldwide. From a market perspective, it is not in the clients' interests for the D&O market to be as volatile as it has been for the past few years. The market needs to retain its discipline with respects to line sizes and pricing adequately for exposures. 
David Mulvaney 
What 3 words best describe the insurance industry?  
Exciting, fun and challenging. 
What are you most looking forward to about working with the Hiscox D&O team? 
The Hiscox D&O book has a lot of interesting, high profile and sometimes harder to place insureds within it. So as an underwriting team it will be great to work on those type of risks and add real value to brokers and clients.  
What advice would you give to someone starting out in the industry? 
Take your time and master the basics of your job. Learn from the people around you as much as you can, there's a lot of really good people in the London market. Don't be afraid to ask questions – it's easier to do so when you are starting out! 
Marilize Otto 
What's the best and worst thing about being a senior underwriter? 
The best thing is having established relationships with our brokers, which have been formed over several years of working in the industry.  The worst is having to deliver an unfavourable message. 
What are you most looking forward to about your new role at Hiscox? 
Apart from being really excited to work with my new team, I'm very much looking forward to writing business domiciled in a wider range of territories, whilst maintaining our core appetite of primary and low excess attachment business. 
What barriers have you overcome in your career in insurance? 
In the absence of a formal underwriting training programme in the industry in general, it was necessary to really push for on-the-job training, which can be difficult when the working days are so busy for everyone.  However, by scheduling time for learning and by doing my own research, I was able to gain the knowledge I required. 
Ishaan Rahman 
What's your favourite thing about being a D&O underwriter? 
Being a D&O underwriter is a great blend of trading with brokers as well as research and analysis on publicly listed companies.  We write business across a range of industry verticals so understanding the macro trends as well as the micro decisions for individual companies is really insightful.   
Why did you choose to work in insurance? 
I'd be lying if I said it was completely intentional! But at the time I was really drawn to the variety of skills, industries and people that insurance exposes you to compared to other sectors. 
What has been your biggest highlight since working at Hiscox? 
I've been very fortunate and grateful to have travelled to a handful of countries with Hiscox and doing a secondment out in Singapore and then Texas were definitely the highlights – both in very different ways.   
Lawrence Prince 
What drew you to the insurance industry?    
Insurance was something I discovered after graduating, when I drew up a shortlist of potential industries that suited my personality and interests. As my shortlist became shorter, insurance remained on the list and to my surprise I realised that beyond the industry's grey exterior was a dynamic global industry which requires an inquisitive mindset, strong interpersonal skills and an ability to keep pace with everchanging world events. 
What are 3 words to describe the Hiscox London Market?  
Professional, honest and tenacious. 
What advice would you give to others who are starting out in insurance?  
As someone who knew very little about the industry before I joined, I would highly recommend keeping an open mind and giving insurance a chance. If you've just started in insurance, take advantage of the openness of those already in the industry – if you're curious about a particular part of the industry, don't shy away from asking someone to share their insights into their role over a coffee.