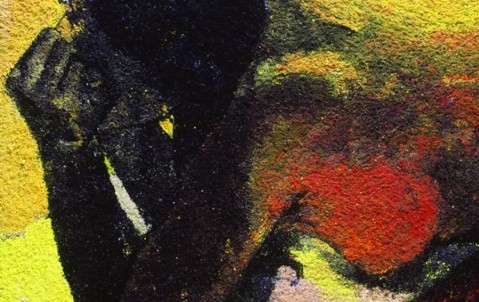 Brazil's art market booms
1st November 2013
With 20 galleries and 23 major standalone works, the sprawling 5,000 acre Inhotim is a showcase for major international artists such as Doug Aitken, Steve McQueen, Dominique Gonzalez-Foerster and Anish Kapoor, as well as the home-grown talents of the likes of Hélio Oiticica, Cildo Meirelles and Tugra.
Inhotim symbolises the tremendous wealth fuelling the Brazilian art boom, which is making the country a major destination on the global art circuit. "The loan of more than 200 works from Norway's Astrup Fearnley Museum of Modern Art to the São Paulo Biennial pavilion in 2011 – the first time these works have been lent outside of Scandinavia – says much about Brazil's elevated position in  today's art world," comments Robert Korzinek, Fine Art Underwriter at Hiscox. "The rise of world-renowned Brazilian artists such as Beatriz Milhazes and Lygia Clark, who have begun to command very serious prices for their work, is also fuelling a mini boom for work from Brazilian artists."
But although demand for fine art insurance cover has risen significantly in recent years for big exhibitions in Brazil, the perception of risk amongst the country's private collectors has yet to match the rapid rise in the value of their collections. This represents a big opportunity for the London market, Korzinek says.
Brazilian billionaires
Brazil's wealth creation over recent years, fuelled by world demand for its vast mineral resources, has been staggering. The 2013 Forbes World's Billionaires List credits the country with 46 of the world's 1426 billionaires. In 2012, the country overtook the UK to become the world's sixth largest economy with GDP of US$2.25 trillion in 2012, above both India and Russia of the fast-growing BRIC economies.
The number of Brazilians with an income comparable to the middle and upper classes of advanced economies is expected to more than double to 29m by 2014, according to the Financial Times. And it's the wealthy upper/middle classes who are behind the growing interest in collecting art, says Korzinek: "At the top level of Brazilian society there's this exponentially increasing group of high net worth individuals, who, when they become very wealthy, want the adornments of wealth, one of which is art. With growing demand, Brazil suddenly becomes very interesting for the international art market. We've already seen the likes of Sotheby's and Christie's placing more emphasis on developing their networks in Brazil." Art Rio has now become a major staple of the international art circuit and all the big dealers want to be there, while Art Basel – Miami Beach also owes much of its success to interest from Latin America.
State sponsored art
Brazil's state-sponsored art sector is also booming. In 2011, Brazil hosted the world's most visited exhibition of that year, according to the Art Newspaper, with more than half a million people going to see M.C Escher's work at the Centro Cultural Banco de Brasil (CCBB) space in Rio. Two other exhibitions at the CCBB, featuring the American experimental performance artist Laurie Anderson and Japanese artist Mariko Mori, also made it into the top ten. "In the past, this list was dominated by museums from Europe, North America or Japan. Then, suddenly, we have Brazil at number one. The country has really surprised everyone because it came from nowhere," says Korzinek.
"There's a real breadth too in appetite among Brazilians for seeing both home-grown art as well as big international collections featuring the likes of Caravaggio. In this age of austerity, North American and European museums are not mounting exhibitions with the same ambition as they used to. Instead they are choosing to lend their artworks to Brazil."
Meeting the big capacity risks
The London market continues to lead the way in providing reinsurance capital and expertise to the local Brazilian insurance market for the big exhibitions. "These risks require large amounts of risk capital, which simply doesn't exist within Brazil," says Korzinek. The expertise that London offers in handling fine art claims is also particularly valuable as the vast majority of claims result from accidental damage inflicted during transit, rather than theft. "Getting the artwork to the best conservators and restorers is so often the easy bit; reaching a quick, discrete and satisfactory settlement with the insured as to the artwork's loss of market value is an art in itself."
The wealth is there; the desire to have and enjoy art is there; increasingly the art fairs and dealers and auctioneers are there
Korzinek says: "The wealth is there; the desire to have and enjoy art is there; increasingly the art fairs and dealers and auctioneers are there; but the infrastructure, how art is handled at the airports, the quality of infrastructure at museums, the quality of the art transporters and quality of roads – that's where our concerns lie. Fine art claims don't happen often, but when they do they're very complex. They can't be settled formulaically: they rely on experience and a wide network of contacts within the art world. This knowledge is harder for other markets to acquire. We've been doing art insurance for 50 years and that experience counts – looking back at cases that happened 30 years ago to inform how we deal with claims today."
Shock loss wakes the private market
For the country's private art collectors, however, their appetite for acquiring new pieces has not been matched so far by a desire to protect their growing collections. "You have collectors who have been acquiring art for a number of years but the value of those collections might have only gone up considerably in recent years," says Korzinek. "What was purely a private passion actually now represents a considerable part of their asset wealth and so insurance becomes more interesting."
Big losses also change perception of risk. In 2009, a fire at a storage facility, which housed the bulk of Brazilian artist Hélio Oiticicia's work, destroyed 2,000 pieces. The works were uninsured, but some estimates have put the cost of the blaze at US$200m.
Although devastating, the Oiticicia fire has already done much to build awareness of the startling rise in value for Brazilian artists. If that growing awareness translates into an increased demand for fine art cover, then London should be well placed to take advantage as the private collectors' market develops. And with the World Cup and the Olympics attracting new investment, the Brazil art boom shows no sign of slowing down. "The increased spread and depth of wealth in Brazil will create a broader base for the art market and put it on a more stable footing in the longer term while, in the shorter term, the World Cup and Olympics will also provide a major boost to public art," Korzinek concludes.
---
The Brazilian art market in figures
US$2.1 million
The price paid in new York for Brazilian artist Beatriz Milhazes' 'My Lemon'
US$25
Monthly stipend given to Brazilian workers by the government for their cultural expenses (buying books, going to see a film, buying art)
573,691
The number of people who went to see the Escher exhibition at Rio's CCBB (the highest ranked world exhibition for 2011 according to the Art Newspaper)
US$27m
Total export sales for Brazilian contemporary art galleries within the international market in 2012 (a 350% increase in the last six years) – www.latitudebrasil.org
71.5%
Of all sales by Brazilian galleries were to private Brazilian collectors – www.latitudebrasil.org