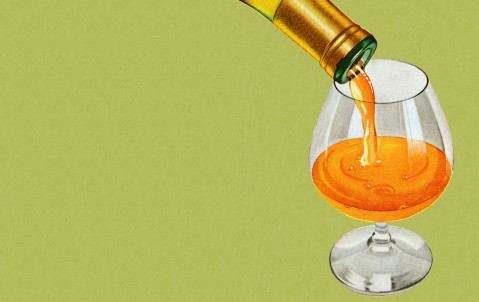 We sorely deserve a treat this Christmas and nothing sums up yuletide indulgence like brandy.
This Christmas, we're in need of a drop of something stronger than wine. For me, that can mean only one thing – brandy, glorious brandy. Who isn't crying out for some eau de vie – literally 'water of life' – after such a challenging year?
It's a festive staple, but in many households it is wasted as lighter fluid for torching the Christmas pudding.  Brandy is wine's complex, sophisticated cousin, and, just like wine, the very best stuff comes from France, in my opinion. Also, like wine, it rewards those who make the effort to explore the subtle differences resulting from each producer's grape varieties, location and craftsmanship. 
So, as the hymn says, let me hold your hand and guide you on your way.
What is brandy?
"Claret is the liquor for boys; port for men; but he who aspires to be a hero must drink brandy." So said English writer, Samuel Johnson.
Brandy encompasses a variety of different spirits, but I will focus on just two: cognac and armagnac. (My apologies to calvados.) Both are made from distilling white wine into eau de vie, but there the similarities end.
Rival cognac and armagnac houses are like the Montagues and Capulets. Cognac producers tend to look down on armagnac makers for being provincial hicks: bereted farmers with soup-strainer moustaches puffing on a Gauloises Caporal. Whereas, armagnac producers dismiss their cognac-making cousins as being flashy parvenus, producing their wares on an industrial scale and wrapping them up in flashy cut-glass-and-gold-encrusted bottles, a blingy accoutrement for rappers (Jay-Z even part-owns the D'Ussé cognac brand). All very French, you might say.
What's the difference between cognac and armagnac?
Cognac comes from the region bordering the Atlantic Ocean north of Bordeaux and south of La Rochelle, through which the Charente river snakes. Armagnac is made 300km to the south in Gascony, a land-locked area west of Toulouse encircled by the Garonne river in the shadow of the Pyrenees.
Cognac is made primarily from Ugni Blanc grapes, whereas armagnac is a combination of Ugni Blanc, Baco and Colombard grapes. Cognac soils tend to be chalky, while those in Armagnac are largely limestone. The Cognac climate is dominated by the ocean breezes, but in Armagnac it is warm and humid in the lee of the mountains.
Its proximity to the ocean and large ports has meant cognac has always had a more international outlook, and we Brits have had a love affair with it dating back to the 18th century. Three of its most famous brands have close links to these islands: Jean Martell travelled from the Channel Islands to establish the eponymous house, Hennessy was founded by an Irish soldier who fought as an officer in Louis XV's army, while Richard Hine was a Dorset man who astutely married a woman whose family owned a distillery.
Cognac is in huge demand, with hundreds of millions of bottles produced each year, many of which are exported to the US and Far East.  Although it's said to be France's first brandy (predating cognac by several centuries) armagnac remains a cottage industry by comparison, much of it still consumed within France. It's no surprise that armagnac was Maigret's preferred nip while enjoying a contemplative puff on his pipe.
So, what's the difference in their taste?
The world-famous barman Salvatore Calabrese – a keen student of brandy who created the world's most expensive cocktail using a cognac from the 1770s – is poetical about the differences between cognac and armagnac: "Imagine a length of velvet and another of a silk fabric. Stroke them. The velvet has a deep, rich texture. That is an armagnac. The silk is pure finesse, and that, to me, is a cognac."
That contrast in taste is also partly due to the different ways in which they are distilled. Cognac is made in copper pot stills, and distilled twice, whereas Armagnac is made in column stills and distilled only once. Cognac is purer, smoother, stronger (so needs to be diluted more) and acquires its complexity by being aged for years in different barrels. Armagnac retains many of the original wine's earthy and fruity flavours, meaning it packs a punch from a young age, even though the best houses will let it mature slowly before bottling.
Also, cognac tends to be a blend of eaux de vies from different years and wine producers from across the region, whereas armagnac is often produced from grapes grown on the maker's estate and harvested at the same time, meaning that, like fine wines, you can get marked differences between vintages.
À la recherche du temps perdu
My first, extremely inauspicious, experience of brandy was when I consumed much of a cheap bottle I bought from a supermarket near my school. The results were both inevitable and spectacular. Then, in 1984 I toured Armagnac with my father. Before then, brandy was just brandy to me, but, after visiting several producers, I came to appreciate the different nuances in flavour that resulted from the mystical powers of terroir, the maker's choice of grapes, their artisanal skill in distilling, blending and then ageing their brandies to perfection.
If that memorable trip was my brandy Damascene conversion, then my epiphany came in 1992 when I was given a half-bottle of Delamain Pale & Dry XO. It too can trace its roots back to the shores of Ireland, from where its founder James left in 1759 to establish the house that still bears his name. The family still own it, unlike other cognac makers that have become part of global luxury conglomerates. Its light silky smoothness is an exquisite indulgence which, for me, is quite simply Christmas in a glass.
It's not cheap, though it's more affordable than some other top brandies. But then a little cognac goes a long way. Canny buyers will pick up some bargains from among the supermarkets' own-brand brandies, which are made secretly by some of the best producers and have collected an armful of gongs in their own rights from international tasting competitions.
I hope you have a wonderful Christmas and will, like me, toast the end of a truly unforgettable year. I look forward to sharing more memorable grape-related moments with you in 2021. Cheers!
Armagnac and cognac labels
The letters on a bottle denotes its contents' age and quality. The older it is, the better it will taste.
V.S (Very Special): Must be at least one year old, or two to be exported.
V.S.O.P. (Very Special Old Pale): Must be at least four years old.
Napoléon: Must be at least six years old.
X.O. or Hors d'Âge: At least ten years old.