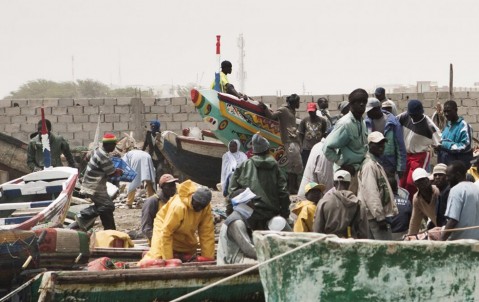 The 21st Century scramble for Africa
Africa has long held a deep fascination for the developed world. From slavery right up to the colonial scramble for Africa in the 18th and 19th centuries, the continent's natural wealth has attracted foreign powers and businesses. Now they are again jostling to secure access to the continent's abundant natural resources and its burgeoning consumer markets and demand for infrastructure. But this modern day scramble for Africa might serve as a trigger for the continent's slide into the type of lawlessness and political upheaval that could transform it into a global hotspot for terrorism and violent extremism.
Unstable Sahel
A volatile mix of increasing inward investment, growing wealth, demographic change, sprawling urbanisation and weak governments would be a recipe for instability in any country. Add to that ethnic, tribal, religious and regional tensions, further stoked by an unequal distribution of the new wealth, and it's no surprise that much of the African continent is proving to be a cause for concern.
In particular, the spotlight is falling on the Sahel region – the belt of land, up to 1000km wide that stretches across the north of Africa from the Atlantic to the Red Sea. "This vast swathe of land, stretching from Senegal in the east and including areas of Mauritania, Mali, Algeria, Niger, Chad, Sudan and Eritrea, is almost ungovernable," says Charlie Hanbury, Special Risks Line Underwriter at Hiscox.
"The borders are porous, many governments have little control and there is a strong history of smuggling throughout the area. For militants and terrorists displaced from the Middle East and Libya, the Sahel is a perfect hiding place and base to launch operations from," Hanbury says. The region also hosts lucrative drilling and mining operations – from natural gas in south Algeria to uranium in Niger – which further adds to the pressure. The French government has already felt compelled to intervene militarily to remove jihadists who were dominating parts of Mali.
Africa's problems though are by no means confined to the Sahel. "Where you have countries crafted by colonialism and false borders created without respect to tribal influences, you have issues which are further exacerbated by religious division and political instability," says Giles Russell, Intelligence and Security Consultant for Hiscox. "South Sudan might have gained its independence, but it has long felt subjugated by the Muslim rulers in the north. Half of Nigeria is Muslim but is currently ruled by a Christian."
Even where countries have a relatively benign security picture, they border countries in chaos. Kenya, for example, is neighbours with Somalia, while Uganda – another relatively safe country – borders with the Democratic Republic of Congo, which has been in an almost continual war since the late 1990s.
China is investing heavily, and in 2010, trade between Africa and China topped $120bn
The glittering prize
Despite this unstable environment Africa's allure continues to grow. China is investing heavily, and in 2010, trade between Africa and China topped $120bn1. China buys something like one third of its oil from Africa, the Economist reports and, in return, is investing heavily in its infrastructure, building roads, schools and hospitals. Other BRIC economies are looking to grow their African interests, while European states and the US are also on the lookout for new opportunities there. These could come in a number of areas: Africans' demand for new infrastructure, including roads, power utilities or housing; in the exploitation of the continent's huge natural resources: oil, precious metals, land and fisheries; or in satisfying the consumer demand from a growing urban middle class.
It's why foreign direct investment in Africa has risen so steeply in recent years. The number of foreign direct investment projects in Africa – ranging from mining, manufacturing, infrastructure and service related sectors – grew by 27% from 2010 to 20112, according to an Ernst & Young survey released in 2012.
Foreign investors, however, must be careful to balance the opportunities with the genuine risk that comes with having operations across the African continent.
The kidnap threat
Kidnap-for-ransom represents a significant threat to foreign businesses and their workers in Africa. "In the last ten years, kidnaps in Africa have risen from 2% of the world's total to 21%," says Timothy Cox, Senior Analyst within Control Risks' kidnap research team. This is a consequence of the growth of three conditions which are typically found in kidnap hotspots, Cox explains. "Firstly, ineffective law enforcement leading to a permissive security environment; secondly the disparity between rich and poor particularly where an income class with disposable income has emerged; and, thirdly the presence of groups who are sophisticated enough to carry out a kidnapping – it can be a logistical challenge to take someone and hold them hostage for a long period of time, undiscovered by security forces."
In the last ten years, kidnaps in Africa have risen from 2% of the world's total to 21%
The kidnap threat is not only restricted to the Sahel region. "Parts of Nigeria, Somalia, Sudan and Kenya are all considered high risk for kidnap. There is also an emerging problem in Egypt and South Africa where express kidnapping – taking a victim to an ATM machine rather than holding onto them for a long time for a ransom – is more prevalent," says Cox. Nigeria records the highest number of kidnaps in Africa and consistently features in the top three of Control Risks' global kidnapping hotspots.
Criminality, not militancy
Despite the presence of fundamentalist organisations such as al-Shabab in Somalia or the al-Qaida affiliated QIM in Algeria, criminal gangs, rather than militants with political or fundamentalist objectives, carry out the majority of kidnappings. "More than 97% of kidnappings in Africa are carried out by criminal groups," says Cox. "In fact some militant groups, such as al-Shabab, don't consider kidnapping a particularly legitimate tactic. There may of course be a desire to attract international attention to a cause or force domestic and international governments into making concessions, but more often than not, the perpetrators are common criminals and the motive is money."
"It's important that foreign businesses working in Africa take a more nuanced view of kidnapping when it comes to the security of their workers," adds Cox. "Militant groups may target new areas in a bid to generate publicity and awareness of their cause. Business travellers need to keep abreast of the latest political developments in a country, as how safe an area is depends on what is currently taking place there, rather than what's happened before."
Protecting your interests
Kidnap is not the only threat: protecting physical assets from terrorist attack will be increasingly important, as will taking cover for political risks. Zimbabwe, for example, poses a significant political risk to foreign businesses in terms of expropriation of foreign held assets. "Even South Africa could be facing more troubled times triggered by political instability. We've recently seen a violent dispute in a Lonmin owned platinum mine, where police opened fire on striking mine workers, which, for a time, looked like it could destabilise the entire mining sector in South Africa," says Russell.
In response to these uncertain situations, the terror market has evolved to now offer a full spectrum of coverage for political violence: terrorism, strikes, riots and civil commotion, mutiny, insurrection through to civil war and war. Richard Halstead, War, Terrorism and Political Violence Deputy Line Underwriter at Hiscox says: "Take Egypt, where the boundaries between the various coverage definitions became totally blurred. The initial protests in Tahrir Square would have triggered claims only for a policy providing strikes, riots and civil commotion. There was no coordinated movement to oust President Mubarak at that point; that came only after a couple of weeks of protests. That's when it became an insurrection, under the policy terminology; but quickly after that a full-scale revolution took place."
For companies with restricted coverage that were affected by the events in Egypt, it was almost impossible to define exactly how their losses occurred in such a fluid and volatile situation.
Also, the limited strikes, riots and civil commotion coverage previously included in property policies has been largely withdrawn - principally as a result of the Arab Spring uprisings. It was originally intended for violent strikes and labour unrest at plants, not for the kind of widespread anti-government protests that swept across North Africa. "Clients may think they're partly covered under general property policies, but they're not any longer. The best option is to buy comprehensive political violence coverage," says Halstead.
Piracy in Africa has also hit the headlines in recent years, but the trend for seizing crews for ransom off the coast of Somalia and right up to the Gulf of Aden is not being repeated in piracy attacks off the west African shore. "In areas like the Niger Delta, Cameroon, Nigeria, Togo, and Ivory Coast, pirate attacks are more motivated by a ship's cargo than they are by the crew. Primarily this is because it's not as easy to hold ships as it is off Somalia – an ungoverned and navy-free state," says Hanbury. Again, piracy is more about criminality than it is in publicising a political grudge.
Safety first
For businesses already in Africa, or for those looking to set up operations there, good risk management is essential. "Insurance premiums will be firming in the region and brokers can help their clients by making sure their clients have good security protocols in place and ready access to the information that their insurers will need to feel comfortable with the risk," says Hanbury.
Laurent Descat, Special Risks Underwriter at Hiscox adds: "The insurer needs to know who is the customer and what is its core business. Is it an identified target for terrorist groups such as al-Shabab in Somalia or QIM in Sahel? Insurers will not touch risks where there is a lack of serious and efficient security measures. There are no uninsurable parts of Africa from a kidnap and ransom perspective, but some extremely high risk countries will be subject to strict sub-limits in our policies. We may insist on very strict security measures, such as the establishment of security procedures on the movement of people, and escort and surveillance by local security forces, as is currently the case in Algeria, Niger and Somalia."
Looking ahead
Given the opportunities in Africa it is unlikely that the recent security problems there will deter foreign investment, at least in the short to medium term. "Over the next ten years, as the gaps between the haves and the have-nots in Africa grow, the foreign businesses who will do well will be those that take a close look at the risks involved in operating in Africa, and which have people on the ground to properly assess the threats to their people and their operations," says Russell.
For the insurance industry, there is also real potential for new markets despite growing attritional losses in areas like the Sahel, concludes Descat "The insurance sector will see significant growth in the African market, whether for kidnap and ransom, political risk, war, political violence or terrorism cover, due to a growing awareness of the uncertain security picture and the need for corporates to better protect their employees and their assets. The challenge of doing business in Africa might also drive innovation within the insurance industry, in a bid to meet clients' changing demands. An example could be where insurers might just offer crisis management and support solutions when international laws forbid the payment of ransoms to terrorist organisations such as QIM."
The Arab Spring has been a wake-up call for corporates with interests in Africa concludes Halstead: "You may think you are operating in a safe, stable country favourable to you and your business interests, but all of that can be turned on its head very quickly. That can be disastrous if you rely on a raw material or product from that country in your global supply chain."
References