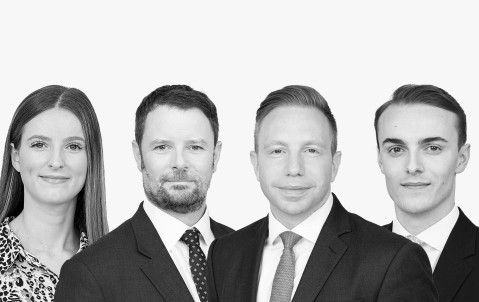 60 seconds with… the Major Property team
"The past 12 months have thrown up many challenges and taught a new generation of underwriters some very old lessons. Through a mixture of good fortune, hard work, diligence and touch of underwriting nous, we managed to navigate the multitude of pitfalls, and achieved an above plan profit – for which we thank our numerous trading partners and clients. 
A new year heralds new challenges, opportunities and change, and whilst we are sad to see some old faces depart, we are delighted to introduce the next generation of Hiscox D&F property underwriters as we look to build on the success of 2021"  
James Robertston, Line Underwriter Major Property 
Tom Yarrow 
How long have you been in insurance? 
I began my insurance career on the Zurich graduate programme in 2004. 
What do you predict will be the biggest threats that your clients will face in 3-5 years? 
We deal with a huge variety of insureds but there are some common themes that will affect all to some extent. We are now clearly seeing the effects of climate change bringing more extreme weather patterns resulting in stronger and more frequent windstorms, flooding and wildfire events. Other universal threats of the business world include social inequality and cyber-crime.  
What's the best thing about being an underwriter? 
The variety. Each day brings a different risk, a different industry and geography. The role is a lovely blend of blend of analytical and social skills, with the added bonus of travel. Great for a curious mind. 
Tom Sutton 
What drew you to the insurance industry?    
Unlike many in the industry I didn't 'fall' into the sector but in fact chose it. After graduating I worked at a Swiss investment bank for a couple of years and although I enjoyed my time there I wanted to work in an environment where business is transacted face to face rather than over email or on the phone. The move therefore seemed very natural to me and I haven't looked back since. 
What are 3 words to describe the Hiscox Major Property team?  
Disciplined, hard-working and fun. 
What has been the highlight of your career so far? 
I wouldn't say there's one single highlight that stands out for me. I think the natural journey I've been on in gaining authority to leading our Power part of the portfolio in conjunction with our General Property offering is one long highlight that I'm very proud of. My favourite moment was visiting a client's distillery in Ireland! 
Molly Colls 
What's your favourite thing about being an underwriter for Major Property? 
My favourite thing about being an underwriter for Major Property is the variety. We see different territories and occupancies including heavy industry which keeps every day interesting. 
Why did you choose to work in insurance? 
I was drawn to insurance due to the sales nature of the industry. Face to face trading has always been of interest to me and I love the social aspect of the job. 
What has been your biggest achievement so far as being part of the Major Property team? 
My biggest achievement has been building relationships and a reputation over the last year with US wholesale brokers. With no opportunity to travel during COVID-19 this has had to be done remotely which proved to be difficult but also very rewarding.