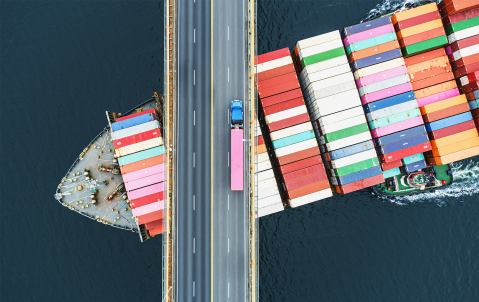 Climate change, piracy and worker shortages hit cargo market
Ships carrying cargo to and from the US via the Panama Canal are seeing delays related to droughts. Due to the reduction in fresh water, canal authorities have cut the frequency of transits through the canal and reduced maximum ship weights. It is an impact of climate change on the cargo industry highlighted in Hiscox's new Cargo Insights Map, which also reveals how other disruptions ranging from piracy to worker shortages are causing both delays and losses to the transport of cargo around the world.
Ships in a bottleneck
In August 2023, ships' wait times to navigate through the Panama Canal increased by up to 40% leading to delays of as much as eight to nine days. As a result, ships have been queuing at both ends of the canal, while some ships have had to take alternative, longer routes, and the cost of freight has also increased. The problem relates to the reduction in water to the canal's feeder lake which supplies as much as 50 million gallons of fresh water to operate the canal's lock system for each ship that sails through. And the situation is unlikely to ease in the near future given predictions for a dryer year in 2024 and hotter temperatures. "It's a serious climate change related delay for ships taking a route which handles up to 5% of the world's global trade," says Aimee Nolan, Cargo Line Underwriter for Hiscox London Market, "and will have an ongoing material impact on the timely delivery of cargo worldwide, but particularly to and from the US."
Piracy returns
While the Panama Canal delay is serious, according to the Hiscox Cargo Insights Map it is not the only potential threat to cargo currently causing concern. After a lengthy period as the world's piracy hotspot, the Gulf of Aden has been superseded by the Gulf of Guinea on Africa's West coast. The ICC International Maritime Bureau recently reported an increase in incidents in the Gulf of Guinea to 21 in the first nine months of 2022 – compared to 14 for the same period in 2022. Of those, 17 were classes as armed robberies and the remaining four as piracy.
Port delays
Bad weather and piracy are not the only delays impacting global trade. An uncertain post-pandemic labour market is also having its say. In the port of Long Beach – the second biggest container port in the US and a key gateway for US/Asian trade – labour issues mean ships are having to wait longer to be loaded/unloaded. In June 2023, the average docking time for loading and unloading was 2.6 days, leading to delays for subsequent port arrivals and deliveries. Requesting the US President to intervene, The National Association of Manufacturers described port conditions as "closed or significantly disrupted".
Stay informed
Combined, all these issues make for a challenging time to move cargo, says Hiscox's Nolan: "There is no doubt that shipping's recovery from the pandemic disruption continues to be hindered by a range of problems whether climate related, piracy or even labour issues. We hope that the Hiscox Cargo Insights Map will keep both brokers and cargo clients informed when it comes to cargo risks around the world and help to best manage the risk of delays or even losses."