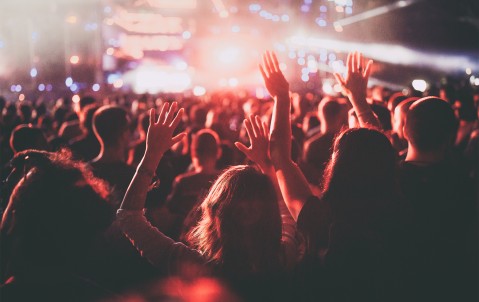 Event cancellation cover looks beyond the pandemic
8th November 2021
Life is gradually returning to the live events sector, while the film cameras are also starting to roll...
Needing a draw or win, India's men were on the verge of securing a rare test series win in England. But, just hours before the first ball was balled in the fifth and final cricket test in late summer, India pulled out for COVID related reasons disappointing cricket fans on both sides. Given the absence of live sport at venues packed with spectators over the last 18 months, it was perhaps a surprise that the series had made it almost to the end without a serious COVID related interruption, but it provided another reminder that the cancellation of live events is still a stark - and expensive - possibility.
Events are returning
For insurers offering cancellation cover for a wide range of live events like these, it has been a challenging period but there are positive signs that the events market is returning. "Sporting events have come back and business events are starting to happen again," says Elizabeth Seeger, Hiscox's Head of Contingency. "Corporations are permitting staff to travel to face-to-face events and organisers are being hugely innovative in finding ways to host their events, whether that's going virtual and/or using different locations. Cinemas went outside for example, while big events like the Chelsea Flower Show shifted dates and opened for longer hours."
"Sporting events have come back and business events are starting to happen again"
In turn, the insurance market has adapted to meet a changing risk profile for many events which have become hybrid, providing participants with both physical and remote access. "Hybrid events present a different underwriting challenge. Yes, you are still concerned about the physical perils – fire, flood, wind, and earthquake – that could put in person attendance at risk, but there are also the consequences of the virtual element being cancelled," says Seeger. "It's a very different risk, with different loss causation. There isn't the long loss history to draw on that we have for a typical physical event, so we're having to access experience within our cyber and technology teams to understand the risks we're looking at, such as the chances of a failure of an IT system that allows people to join an event live."
Organisers can't face another loss
Communicable disease is however an exclusion for event cancellation cover which means the UK government's insurance scheme to support events in the UK should any legislation force an event to be cancelled, curtailed or postponed because of COVID is welcome says Seeger, although organisers will still not be able to claim for communicable disease related losses if the impact is not as a result of a UK civil authority action. "Despite that exclusion, there is still a market for event cancellation cover because a lot of organisers who suffered financially last year, probably can't afford to have another loss related to their event this year. If it's being held in a hurricane or earthquake zone for example, they cannot afford to run without cover and take the risk of those type of perils cancelling their event, even if they can't get communicable disease insured."
Lights, camera, stop
Like the live event industry, another beneficiary of a UK government scheme to keep the industry going has been the media and entertainment sector which, as with live events, was brought to a standstill by COVID. "Every production in the process of filming had to stop at the end of March last year," says Hiscox's Robin Walsh, Head of UK and International Entertainment. "For our business, we need companies making TV programmes and films to generate insurance premium but for much of last year, no one committed to making new productions."
"Every production in the process of filming had to stop at the end of March last year,"
Fortunately, the outlook is now more positive. "We are in the recovery phase. It's not yet what it was in 2019, but it's much better than it was in 2020. Production activity is returning although a concern is what happens next June when the UK government's Film and TV Production Restart Scheme – launched in October 2020 and designed to compensate film and television producers for COVID related losses – comes to an end." The government has agreed to extend the support scheme until June 2022 when the intention is to withdraw backing. "Is there an expectation that the insurance industry will step in and support the scheme in the market - perhaps through some form of captive - beyond that date? We'll have to wait and see what develops early next year," says Walsh.
A silver lining?
Similarly the UK government's Live Events Reinsurance Scheme is due to only run until the 30 September 2022 which adds some future uncertainty on the events side. "It's a difficult market right now," says Seeger. "COVID is still ongoing and impacting the businesses we're insuring, while we haven't yet seen the hard market truly take effect because there hasn't been the normal volume of risks to insure, which means rates and terms and conditions are yet to bite. Until we get back to insuring events on a large scale as we did prior to 2020, it's hard to say how the market will settle down." But there could be a silver lining amongst the uncertainty. "Self insurance has always been our biggest competitor. Lots of organisations never saw the value of cancellation cover pre-pandemic. Now they've realised they do need cover for the perils that you can't foresee," says Seeger, even if that excludes protection for communicable disease. "Whatever happens, you have to applaud the event industry's capacity to innovate and adjust to the new environment we're all facing, and it's our role to support them as much as we can as the industry recovers."