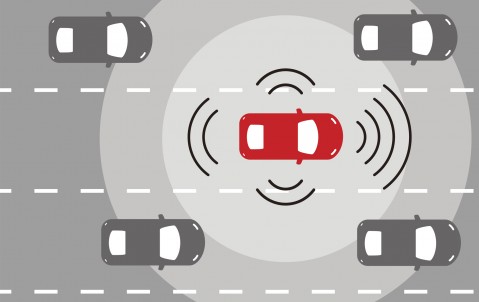 Green light for robot cars
18th October 2019
Fully autonomous cars might still be some way down the road, but safety benefits from new tech could be just around the corner.
Despite enthusiastic predictions that self-driving vehicles will soon be whisking people around while they relax, even sleep safely inside, the likelihood is that they will not become a common feature on roads for years to come. But a lot of the technology that will eventually enable cars to drive themselves, when linked up to a central computer 'brain', is already being fitted into many vehicles and could soon start to reduce the number of accidents.
All of the major carmakers, as well as companies like Waymo (backed by Google), Apple, Uber, Lyft and Tesla, are pouring billions of dollars into researching and developing autonomous vehicles. Optimists predict they will soon be on roads.
Self-driving "robotaxis" could be seen in the US as early as 2020.
Elon Musk, the boss of Tesla, the electric carmaker, says self-driving "robotaxis" could be seen in the US as early as 2020. His company unveiled in April a new, improved microchip that it says would enable "full self-driving capabilities", although currently none of the company's cars are near to being able to drive themselves, with or without the presence of a human driver.
The UK government says it wants fully self-driving cars on the country's roads by 2021 and is revising its rules to allow fully autonomous cars, with no human onboard, to be tested on its roads.
Bumps on the road
But even the AA, the UK car lobby group, thinks that target is over-optimistic, saying "2021 feels extremely challenging given the technical and legal hurdles yet to be overcome." Although it says it might be possible to see driverless cars following fixed routes in dedicated lanes within that timescale, the AA contends: "the self-driving vehicle that can take you from your home to anywhere and back again in any weather and in mixed traffic is much, much further away."
Even the head of a major carmaker agrees that driverless cars are a long way away. Andy Palmer, the chief executive of Aston Martin, told The Guardian in April that he did not expect to see full autonomy in the next 20 years. "You're going to see robotaxis in geofenced areas as early as 2021-22. I don't think you'll see commercial distribution of level-four vehicles until the mid-2020s. I don't think you'll see level five [fully driverless cars] in my career. To drive up a mountain or a Delhi or London street – I think we're dreaming if we think it's going to be around the corner."
Problems, such as the Lidar units - that scan the environment and feed the information back to the car's computer 'brain' - not working properly in snowy, rainy or foggy conditions, are still to be ironed out.
Nearly three quarters (73%) of Americans would be too scared to ride in a driverless car.
Meanwhile, the car industry is suffering a deep slump. The industry has announced tens of thousands of job losses as a fall in sales bites deep into their profits. Their shift to electric and driverless cars requires massive investment with uncertain returns.   
It's also unclear if people are ready to ride in robot cars. Nearly three quarters (73%) of Americans would be too scared to ride in a driverless car, according to a survey by the American Automobile Association. Women are particularly unenthusiastic about the prospect of autonomous cars. Seventy nine percent are fearful of driving in computer-driven cars, compared to 62% of men, while researchers at Massachusetts Institute of Technology found that a majority of women would want a 'help driver' or some sort of back-up safety personnel, according to a Washington Post report. "There's a cultural, and perhaps generational shift that's required for drivers to embrace before driverless cars become a common sight on roads," says Ed Wallis, General Liability Line Underwriter at Hiscox London Market.
The future is already with us – to an extent
But there is plenty of gadgetry already being fitted in cars that could help to make driving safer long before robot cars become a common feature on roads. "People might not understand the extent to which many newer cars already feature a lot of the technology that one day will eventually comprise an autonomous vehicle," says Wallis.
Driver aids such as cruise control and reversing sensors are common features on many cars these days, which are classed as Level 1 on the scale of autonomous vehicles devised by the Society of Automotive Engineers (SAE) – Level 0 being where the driver has full control of the vehicle and Level 5 where a car fully drives itself. Plenty of new cars have the capability to automatically adjust speed to the surrounding traffic, stay in lane and brake to maintain a safe distance to the car ahead and park themselves; these more sophisticated forms of driver assistance are classed as Level 2 on the SAE scale.
These systems could help to make driving safer, as around 94% of crashes in the US and 74% of those in the UK are estimated to be due to driver error, according to research. Careless driving, such as not paying enough attention to the road and speeding, is blamed for being the biggest cause of accidents.
Potential solutions to carnage on roads
New safety-enhancing gadgetry can't come soon enough in the US, where the number of road traffic deaths has jumped over the past few years. There were more than 40,000 deaths a year between 2016 and 2018, reversing a trend of fewer fatalities during the preceding decade, according to figures from the National Security Council (NSC).
The reason for the increasing death rate on American roads is unclear, because no state fully captures the data needed to understand the real causes of crashes, according to the NSC. But it's a problem that is reaping a terrible toll, both in lives and an estimated cost to the economy of $412.8 billion in 2018, according to the NSC.
The impact of new driver assistance systems on road safety is still not proven, because the technology is relatively new and is not fitted as standard on all new cars, but a series of research studies have suggested they could help to reduce the number of accidents.
94% of crashes in the US and 74% of those in the UK are estimated to be due to driver error.
A quarter of serious crashes and three in ten fatal crashes could be avoided if Intelligent Speed Adaptation (ISA), which either alerts the driver or automatically slows down the vehicle if it exceeds the speed limit, were fitted as standard on cars, according to one academic study. Autonomous Emergency Braking (AEB) systems, which either warn the driver or apply the brakes of potential collisions, could prevent over a third of fatal accidents if installed in every vehicle according to a study by the Transport Research Laboratory.
"The driver-assistance technology being developed has the potential to be hugely beneficial to society by helping reduce both the frequency and severity of road traffic accidents. It's a no-brainer for us to back these innovations," says Wallis.