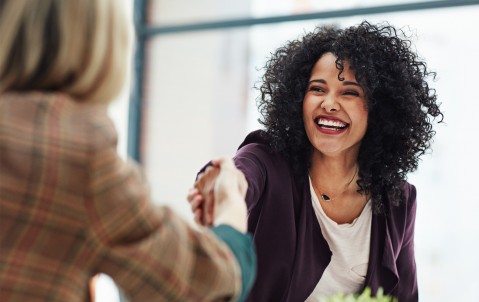 Hiscox celebrates International Women's Day
Women at Hiscox group is creating a level playing field for women to fulfil their potential through a range of initiatives.
International Women's Day on March 8 will celebrate the achievements of women as well as continue the push for greater gender parity. But, in the centenary of British women first getting the vote, recent figures showing a prominent and persistent pay gap between men and women and the #MeToo movement shows much still needs to be done to achieve equality.
There also remains a stark male bias in the insurance industry's upper ranks. Only two in ten executives are women, according to research published in February by the Association of British Insurers (ABI), despite nearly eight out of ten companies having a diversity and inclusion policy. "Warm words and good intentions are not enough when it comes to addressing a lack of diversity" within insurance, says Huw Evans, the ABI's Director General.
Nearly five years ago, Hiscox set about trying to increase its number of female executives. "Hiscox is a great company built around a clear, strong set of values. But the statistics don't lie," says Liz Breeze, Head of Finance at Hiscox UK.
The programme to help more women in middle management jobs move into senior roles has since morphed into The Women at Hiscox group, which is trying to create a level playing field for all women to progress within the company.
The group has conducted what Breeze, its executive sponsor, calls a "drains up exercise to ensure women were being treated equally", looking at a range of issues from flexible working, to maternity and paternity leave as well as any potential bias in the interview and hiring process.
But more needs to be done, so it is now broadening its approach to help give women the opportunity to fulfill their potential, regardless of where they are on the corporate ladder. It offers female employees advice and support to build their careers, including the chance to have mentors, to develop their self-confidence and public speaking skills and to build a network of contacts across the company.
"There are many factors involved in getting a promotion other than simply working hard. I've been at Hiscox for 20 years and I feel really passionately about helping women to progress who are just starting out. We want to make sure they have all the tools available to them to make it easier for them to get ahead," says Tina Stowe, who is part of Hiscox London Market's business development team, and a leading member of the Women in Hiscox group. 
Landmark appointment
The appointment of Kate Markham as Hiscox London Market's first CEO in October 2017 makes her one of only a small handful of women to run a business in the world's specialist insurance capital. Her appointment shows that it's possible for women to get to the top and also be a mother, says Breeze. "Kate's immensely talented, but she's always made it clear that she will leave the office promptly so she can spend time with her family," says Breeze.
Markham, who used to run the Women at Hiscox group, will later in the year be telling its members what it takes to be a CEO. Courage is one of Hiscox's core values, and the group aims to "help women to be more courageous in their careers," say Breeze and Stowe.
"There are lots of reasons why women find it harder than men to progress their careers," says Stowe. "But one of those, all the evidence shows, is that women generally aren't as brave in their career decisions as men. It's a fact that they are less likely than men to go for a job if they feel they don't have all the skills required."
Managers can play a crucial role by nudging their female employees to push themselves a little more. "Leaders can make help them feel differently about themselves and understand they have the skills by encouraging them to go for a job or to lead a project," says Breeze.
The Women in Hiscox group will be celebrating IWD with a speed-networking event, explaining the group's aims and providing an opportunity for women across the company to meet. It has a range of events over the coming months that everyone can attend.