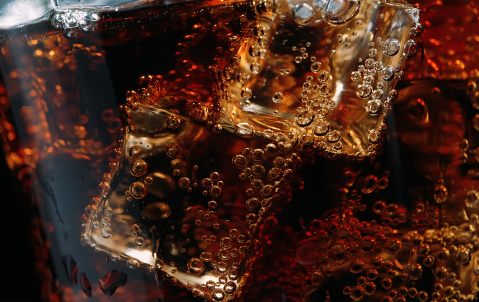 How the shortage of carbon dioxide (CO²) could impact the food and beverage industry
16th December 2022
A lack of CO², which is a vital ingredient in everything from frozen turkey to fizzy drinks, threatens to take the sparkle out of this year's holiday season.
A global shortage of carbon dioxide (CO²) is hitting food and drinks makers. The industry relies on the gas, using it for everything from keeping food fresh to adding the fizz into beer and soft drinks.
The price of a tonne of CO² has jumped 3,000% in the past year, according to the Energy & Climate Intelligence Unit. Industry experts warn that supplies are likely to remain tight for the foreseeable future.
US food companies have been racing to find sufficient supplies of CO², the Wall Street Journal reports. Around 70% of the CO² produced in the US is used by the foods and drinks industry, and if they can't get hold of enough of the gas it could disrupt production, meaning shortages of some products on shelves, or forcing companies to find ways of using less of the gas, the paper states. Already some small breweries around the US have had to stop production because they can't get hold of the CO² they need.
"The CO² shortage is yet another challenge for food and beverage manufacturers," says Amie Townsend, Product Recall Underwriter at Hiscox London Market.
"The CO² shortage is yet another challenge for food and beverage manufacturers," says Amie Townsend, Product Recall Underwriter at Hiscox London Market.
What's causing the shortages?
Stocks are low after a long, hot summer in the US,  when there was a surge in demand for cold fizzy drinks and frozen food.  Gas production has been slow to return to pre-pandemic levels – much of the CO² used by the US food and drinks industry is produced as part of making ethanol, widely used as a biofuel in US vehicles. But ethanol production was slashed during Covid-19 because many Americans drove less.
Contamination at a large natural CO² well in Mississippi that is a key supplier to the industry has added a further kink to the supply chain, as has the temporary closure of some fertilizer plants – which also manufacture industrial CO² – for overdue maintenance.
The fuel crisis is also adding to the problem. In Europe, most industrial CO² comes from making ammonia for fertilizer, but the skyrocketing cost of natural gas has forced manufacturers to scale back production to save money. As much as 70% of Europe's ammonia production has been cut back, and may not come back for some time, one industry expert predicted, which will have a knock-on effect on CO² production.
There have been shortages in the past – in 2021, a capacity crunch in the UK was so acute that the government stepped in. But demand for CO² from the food and beverage industry is growing, including a steep rise in fresh food home deliveries, which need plentiful supplies of dry ice, which is made using the gas.  
How could the shortage affect the food and drinks sector?
One UK lawmaker has warned that "any disruption to CO² supply could have serious effects on food production, national food security, and animal welfare."
The CO² crisis heaps even further pressure on food companies, which have already seen their raw material and energy costs spiral, while experienced staff have quit their jobs in the "big resignation", forcing food and drink makers to rely on raw recruits and temporary labour, says Townsend. 
Food and drinks makers' procurement and production plans are coming under intense strain as a result. "Having to deal with CO² shortages, on top of all the other challenges they face right now, will test the resilience of food and drinks companies' business continuity plans. It could force them to stray from their quality control or supplier vendor plans, which raises the potential for errors. Those could ultimately result in product recalls," Townsend says.
If they are forced into a recall but a continued shortage of the gas causes delays in them being able to get replacement products onto supermarket shelves, "then the impact on their reputations and their relationships with their customers could suffer further damage, causing the financial fallout to be even greater," Townsend adds.
Companies are looking at how to be better prepared for an uncertain future. Nitrogen could be used as an alternative to CO² in making fizzy drinks, while production of bio-CO² created from anaerobic digestion could be expanded to meet more of the food and drinks industry's needs. Food makers are also looking at possible ways of using less CO² in their processes.
"Having a strong crisis management plan is an essential part in food and drinks manufacturers' operating models to enable them to get through tough times," concludes Townsend. In a crisis, it's always good to be able to rely on the advice of an expert. Companies can, through a Hiscox product recall policy, call on the advice of Control Risks, which has a wealth of experience in dealing with similar crises and can offer tips on improving the strength of their business's resilience planning.
"Having a strong crisis management plan is an essential part in food and drinks manufacturers' operating models to enable them to get through tough times," concludes Townsend