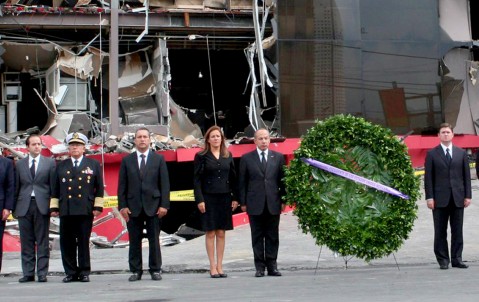 Mexico's bloody growth story
1st November 2013
Mexico has increasingly become a destination for international companies looking to set up a low-cost production base to export to its neighbour, the United States. But the war raging between criminal gangs and law enforcement agencies is a security sore that continues to fester, causing problems for businesses and insurers alike.
President Enrique Peña Nieto, elected in December 2012, aims to rejuvenate Mexico's economy and push up its annual growth rate to 6%, by overhauling the country's labour market, state-run oil sector and its tax system. Foreign investment in Mexico is rising and hit a six-year high of $4.99 billion in the first quarter of this year, according to official figures.
Mexico's friendly stance towards international business has been contrasted with Brazil's increasingly protectionist economic policies and, if successful, Mexico could become a "jaguar economy" that overtakes Brazil as Latin America's economic powerhouse, according to research last year by Nomura.
But the security threat posed by organised crime in Mexico has risen exponentially since 2006, when then-president Felipe Calderón launched a military clampdown on the drug cartels involved in an increasingly bitter turf war for drug trafficking routes to the United States.
Fanning the flames
Calderón's decision to send in troops to try to restore order and catch the cartel bosses only served to add fuel to the fire. Violence intensified as open warfare broke out between the gangsters and the army. Some cartels splintered into smaller criminal groups or moved to other parts of the country to escape the attentions of the military. The turf wars simply moved elsewhere and were fought over other issues as cartels diversified into new activities, such as people trafficking, gun running and extortion.
The violence reached its crescendo in August 2011, when a cartel launched an arson attack on a casino in Monterey, the country's wealthiest city and the location of many international firms' Mexican operations. The attack, which killed 52 people, was reportedly carried out because the casino owners refused to pay protection money to the local Zetas drug cartel.
The attack sent shockwaves through Mexico and turned the international spotlight on its increasingly violent drug wars, which claimed the lives of more than 70,000 people and caused the disappearance of a further 26,000 between 2006 and 2012.
Attack raises insurance concerns
The ripples of concern reached as far as London's Lime Street, the home of Lloyd's. The Monterey casino attack accelerated the need for the insurance market to provide effective answers to Mexican clients' questions about whether their businesses would be covered for acts of cartel violence under their terrorism policies.
Although small to medium-sized businesses have borne the brunt of the effects of the crime wave, large companies have not been immune to the cartels' violence. Bimbo, Mexico's biggest bakery company, and Sabritas, a Mexican subsidiary of PepsiCo, were threatened in April by the Los Caballeros Templarios cartel. Sabritas facilities in Michoacán and the neighbouring state of Guanajato had already been burnt down by the cartel in May 2012.
The Mexican organised crime gangs' atrocities sparked a debate within the London insurance community as to whether cartel violence is covered under conventional terrorism policies, or whether they are within the scope of broader policies that cover clients against perils including strikes, riots, civil commotion and malicious damage.
The cartels' brutal tactics, including car bombs, beheadings and ambushes on the security forces, were often branded in the media as acts of "narco-terrorism", which only increased the confusion about how they were defined as insured events. "After the Monterey casino attack, President Calderón said the country was facing 'true terrorists'. So it's understandable that Mexican clients would think they were covered for such events under their terrorism policies. But it's not that simple," says Michael Jordan, War, Terrorism and Political Violence Underwriter at Hiscox.
That is because cartel violence does not fit easily within the terms of conventional insurance cover, explains Jordan. "The standard wording used for most Mexican terror policies defines acts of terrorism as being politically, religiously or ideologically motivated. But, although they are employing tactics that are characteristic of terror groups, cartels are not fighting for a religious belief or a political creed – these are simply criminal acts, because violence is just a tool of their trade." 
The intention is to give businesses the peace of mind of knowing that they are definitely covered for these acts, which is something they have previously lacked
Hiscox creates new coverage
In 2011, Hiscox started to formulate a new policy wording that would cover Mexican businesses against acts of cartel violence. After a lot of work, the new policy was launched in early 2013.
Jordan says: "We have created a new facultative reinsurance wording for the Mexican market that extends our terrorism and sabotage cover to include cartel violence. That definition was the result of extensive consultations we held with insurance lawyers in London and in Mexico. It provides cover for physical damage and business interruption as a result of acts of force or violence carried out by criminal organizations involved in the drug wars; getting caught up in acts of force or violence between these criminal organizations; or between the criminals and the security forces."
The new wording aims to give businesses cast-iron guarantees that, if they become inadvertently mixed up in the cartel wars, their insurer will compensate them. "The intention is to give businesses the peace of mind of knowing that they are definitely covered for these acts, which is something they have previously lacked," says Jordan.