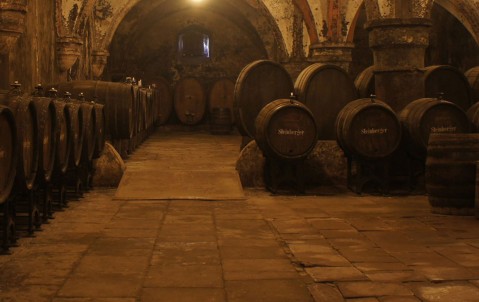 Word on the grapevine — Create your own cellar
12th April 2015
In this edition's column I thought I'd write about how to start your own wine collection. The first step in building a cellar is to make the commitment to buy a wine that will improve with age. There is pleasure to be derived from this, even for the most impatient wine lover. Like Croesus looking at his money, I derive an absurd pleasure from sneaking down to my cellar to fondly gaze at my 'liquid children', knowing that they are maturing and improving by the day – unlike the real ones.
A wine collector gets an added buzz from being able to offer friends and relatives a bottle of something truly memorable on a special occasion: a wine which simply isn't available anywhere on the shelves because you had the foresight to snap it up and lay it down years ago.
My advice is to begin by buying a case of decent claret, most of which, if bought young, are pretty well guaranteed to improve with age. If you get the bug, one case will lead to another and before you know it you will have half a dozen or more. In no time, you will be reading with covetous interest the wine catalogues and searching online for good deals as well as faffing around in your cellar. 
Where to buy your wine
The local wine shop, such as Oddbins and Victoria Wine, has all but disappeared from our high streets, as the supermarkets have become most people's destination-of-choice for buying their wine. Supermarkets offer some decent wines, mainly on an individual basis, and the choice is fairly limited. They are primarily focused on selling wines that cost less than £10 a bottle, which are ready to drink immediately. This naturally caters for the mass market. But wines tend to become a lot more interesting above the £10-a-bottle mark.
The way in which a £30 bottle of wine is made is light years away from how a sub-£10 bottle is produced. The grapes are probably hand picked, rather than harvested mechanically, so that it is vinified without the extraneous junk, such as twigs and leaves, that a machine cannot distinguish. For the top wines, the best grapes will be expertly selected from those picked, and the wine is then made in good-quality wineries. What make these wines so interesting to me is that each vintage will reflect the weather, the soil, and the personality of the winemaker. 
If you are serious about collecting wine, then the best deals to be had are with wholesalers. They sell a much bigger range of wines, many of which you simply wouldn't see in a supermarket.
If you're buying wines from Bordeaux, the number one place to get them from is Farr Vintners (www.farrvintners.com, 0207 821 2000). Farr has the biggest financial clout in the business, so if a chateau wants to sell 200 cases of wine then only Farr has the muscle to do the deal. Its business model is to quickly turn over wines at a low margin, so it regularly offers excellent deals.
Like Croesus looking at his money, I derive an absurd pleasure from sneaking down to my cellar to fondly gaze at my 'liquid children', knowing that they are maturing and improving by the day – unlike the real ones.
For other wines my favourite wholesaler is probably Decorum Vintners (www.decvin.co.uk, 0208 969 6581), run by Mark Roberts, aka "the Dog" and Rupert Monier-Williams. I like Decorum because I think the Dog has one of the best noses in the business and regularly sniffs out some real gems. He is a massive heavy metal fan, so his tasting notes are a treat themselves, littered with musical allusions. They are particularly good for Italian wines as well as Burgundy.
Buying wine from a wholesaler is a completely different experience from going to your local supermarket or Majestic. You won't be able to pitch up and browse their racks, because they have no shops. They operate from warehouses and will do business with you over the phone, online or by email. This means they are able to offer the keenest prices, because their overheads are much lower. 
Buying from a wholesaler may seem like a daunting prospect, especially if you're a novice, but they're happy to hold your hand if you want some help and will make some recommendations if you call them. Their websites can also be very informative, and they will add you to their mailing list, once you've bought from them, to let you know of their latest offers. 
Wholesalers require customers to spend a minimum amount, normally between £250 and £500. Although that may sound like a lot of money, that's equivalent to one or two cases of wine costing £20 a bottle. 
What makes wholesalers unique is that they will usually have visited the vineyards, tasted the wine in the barrel, and spoken to the person who created it. By buying from the wholesaler, you are normally one step closer to buying directly from the winemaker.
How to store your wines
There's no point in buying some decent wine if you don't have somewhere suitable to store it. Don't keep your newly prized possessions in a cupboard under the stairs, which is hot and bone dry. They need to be laid down in a place that is cool, moist (but not damp) and not subject to big temperature fluctuations, otherwise the wine matures too quickly, and the corks may shrink, leading the wine to become 'corked'.
If your wines arrive still sealed in their original wooden packing cases then you should leave them there while they mature. Keeping them in their wooden cases makes them easier to store and often improves the value of them should you want to re-sell. Cardboard cases are of no value and it is often best to get rid of them as soon as possible as their condition deteriorates fairly quickly and you may get an unpleasant surprise if you try and pick one up after a couple of years. 
Store your wines slightly off the ground. You want some air to circulate, in moist conditions, ideally at around 65% relative humidity. To create the ideal conditions in which the wine can mature you want the temperature to fluctuate gradually throughout the year, between 5℃ and 15℃. If you don't have a room underground that suits your purpose then my recommendation would be to buy a wine fridge on eBay in which to keep your stars of the future in cossetted comfort.