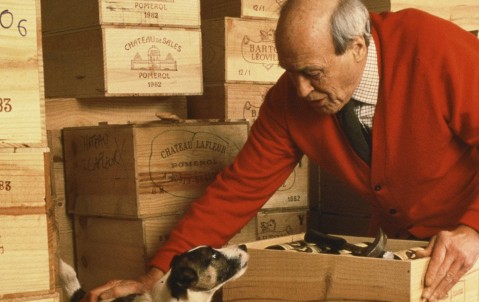 Word on the grapevine — passion play
2nd February 2016
Bobby Read expresses his admiration for those great collectors whose appreciation of wine goes beyond its investment potential.
It is a source of infinite disappointment to me that today's wine collectors are so grey. Chinese billionaires and hedge fundistas with iced San Pellegrino running through their veins accumulate wine as an investment, or as an expression of their wealth and good taste. But their taste doesn't often extend to actually enjoying the fabulous bottles they have acquired. They just appreciate its rising value. 
The collectors I look up to are those whose knowledge of wine is matched by their enthusiasm and enjoyment of it. "Unlike an art collection, which is permanent, wine ultimately must be consumed. You should never contemplate a cellar if you cannot accept that fact." So said the great wine collector Lloyd Flatt, a wonderfully colourful character who hailed from New Orleans, wore an eyepatch and had an encyclopedic knowledge of fine wine. I agree with him completely. In my opinion, the only reason for keeping a cellar is the pure unalloyed pleasure of uncorking something truly special with your nearest and dearest, or just to get merry. 
That's why the collector to whom I tip my hat is Roald Dahl. His prodigious output as a writer was matched by his great thirst for accumulating and enjoying great bottles of wine.  
What I admire most about Dahl is that he fully expected to drink much of his enormous stash. He wasn't a man who took vicarious pleasure in watching his cellar mature.
Dahl's love of fine wine featured in his writing. In his little-known saucy and priapic novel My Uncle Oswald the main protagonist is sitting eating a picnic on a low stonewall that marks the boundary of Romanée Conti, one of the very best burgundy vineyards. His father tells him: "You are sitting, my boy, on the edge of the most famous piece of land in the whole world! Just look at it! Four and a half acres of flinty red clay! That's all it is! But those grapes you can see them picking at this very moment will produce a wine that is a glory among wines. It is also almost unobtainable because so little of it is made. This bottle we are now drinking came from here eleven years ago. Smell it! Inhale the bouquet! Taste it! Drink it! But never try to describe it! It is impossible to put such a flavour into words! To drink a Romanée Conti is like having an orgasm in the mouth and the nose both at the same time."
Incidentally, the cheapest bottle of Domaine de la Romanée Conti that I could find that is now 11 years old (from the outstanding 2005 vintage) is not far short of £1,000.
Dahl's own passion for wine is perhaps summed up in Oswald's words about his father's love of the grape: "listening to him during those early years, I began to realize how important it was to be an enthusiast in life. He taught me that if you are interested in something, no matter what it is, go at it full steam ahead. Embrace it with both arms, hug it, love it, and above all become passionate about it. Lukewarm is no good. Hot is no good, either. White hot and passionate is the only thing to be." 
White hot and passionate could certainly sum up Dahl's decision to buy 1000 cases of Bordeaux from the stellar 1982 vintage. Dahl placed his truly enormous order after being persuaded that that year's vintage was something truly special by über wine critic Robert Parker (who at that stage was writing The Wine Advocate as a sideline to his day job as a lawyer) and by the novelist's friend, the winemaker Bruno Prats – the owner of Chateau Cos d'Estournel at the time. Dahl ordered cases of Cos d'Estournel (not surprisingly), Mouton Rothschild, Lafleur, Léoville-Las-Cases, Pichon-Longueville, Léoville-Barton, Canon, Angélus and Beauregard (after whom he named Violet Beauregard, the character in Charlie and the Chocolate Factory). He even had a special chute installed into his cellar at home in Great Missenden so he could take delivery of his cases.
What I admire most about Dahl is that he fully expected to drink much of his enormous stash. He wasn't a man who took vicarious pleasure in watching his cellar mature. He wasn't interested in laying down bottles for years before enjoying them. Impatient to try his new acquisitions, Dahl would often uncork wines as soon as he'd taken delivery of them. I admire his enthusiasm and the feeling that he absolutely must try it now, as well as buying in such large quantities that he was able to try it later as well.
As it happens, his impatience was rewarded, according to his widow. Many of the wines he drank when they were very young were wonderful – much better, she said, than after they had been laid down for too long. It just shows that you don't have to play by the rules of ageing, which, it must be said, is rather a British trait. The French are happy to drink their wines much younger than we would think either right or proper. Vive la différence!