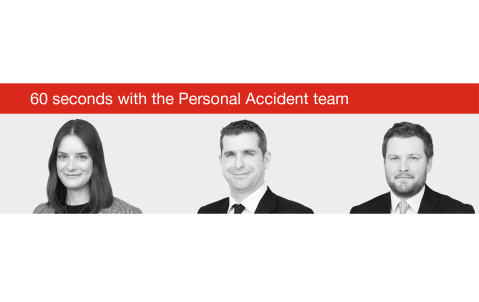 60 seconds with… the Personal Accident team
26th April 2023
In this 60 second article we have focussed on the Hiscox London Market Personal Accident team. We spoke to Jason Innes, Henry Weston-Simons and Harriet Ayre to get a better understanding of the teams key priorities and learn more about how they got into insurance. If you missed our last 60 second article on the Terrorism team, you can read it here.
"The PA market is a very interesting and challenging environment with lots of different risks and an excess of capacity. No day is the same and it can never be labelled boring. Covid was obviously a significant event in our market but we have come through it (hopefully) and with the wealth of experience in the Hiscox team we plan to thrive in the coming years. Ways of working have also changed, mostly for the better, but we must never lose the face to face interaction with brokers and clients. The team enjoys working together which makes those challenging times easier to overcome and the achievements great to share. If you'd like to find out more about Personal Accident please don't hesitate to get in touch."
Jason Innes, Personal Accident Line Underwriter 
Jason Innes 
How did you get into insurance?
I moved to London after university without a job and picked up an Insurance Journal that advertised a job as an 'Insurance Statistician' at a Lloyd's syndicate. I had no idea what Lloyd's was so thought I would give it a try and applied… 24 years later and I'm still here.
What are your key priorities over the next six months?
My priorities are split by division and team. My key divisional priority is driving the Crisis Management offering by Hiscox to be the lead market in this field, making sure that all of our client's needs are fulfilled to the best of our abilities. A team priority is integrating Harriet into all aspects of being a Personal Accident underwriter.
What has been your biggest achievement so far at Hiscox?
There are probably two achievements that come to mind first. Firstly, the past two years the team have delivered above planned profit, and this has been achieved whilst shrinking the size of the book. Secondly, I have been a mentor to several junior underwriters and watching them develop and advance their careers has given me great satisfaction.
Henry Weston-Simons
How has the insurance industry changed since you joined 10 years ago?
The most significant change has been the way we now conduct business in the London Market as a result of the Covid-19 pandemic. When I was working as a broker before the pandemic I found that I still did a significant amount of business face-to-face with Underwriters. Now, whilst there remains some face-to-face interaction, I believe it is very rare for an underwriter to agree to write a risk at the box, with the majority of business now being conducted over email. In the immediate term I think this has led to more considered Underwriting but in the long term this could see the erosion of personal relationships and the loss of a key differentiator when working with the London Market.
What 3 words best describe being an underwriter?
Challenging, diverse and fun.
What's your favourite thing about working in the London insurance market?
London remains a major hub for (re)insurance and in particular for unusual and complicated Personal Accident protections. You can be reviewing an international sportsman looking for career ending insurance one moment and the next reviewing medical cover for people travelling to a distressed territory like Ukraine. The class I work in and the London Market mean that I never know what I will be presented with on any given day.
Harriet Ayre 
What attracted you to Hiscox? 
I had a close friend who had been at Hiscox for a few years and she always seemed to be challenged in her roles, given so many opportunities and having fun! When an opportunity came up to join the Operations team I jumped at it as I knew the role would give me a breadth of exposure across the London Market and be the perfect start to my insurance career.
What advice would you give to someone looking to move from Operations to an Underwriting role?
Take the opportunity to get involved with as many parts of the business as possible and as many different classes of business as you can. It's the best time to work out what you like and what you don't!
What is the best thing about being both a personal accident and product recall underwriter?
The variety! I love that so early on in my career I have the opportunity to be exposed to two very different classes of business, as well as become integrated in both markets.