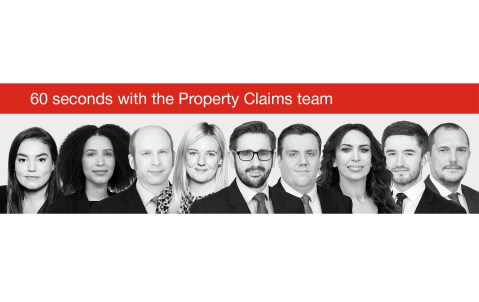 60 seconds with... the Property Claims team
"The Property Claims team are true leaders within the London market with a unique mix of market developed and homegrown talent. A primary goal is to respond and help our policy holders when they need us most and paying valid claims as promptly as we can. We are always looking for ways to speed up the claims process, from using the best service providers, to technological advancements to make claims adjustments as smooth as possible for our insureds.

"Members of the team each bring something special to the table; everyone has a voice, with everyone's opinion always being heard and respected. We all work together to ensure the delivery on the promise made when underwriters put the Hiscox scratch on a binding authority/policy."

Paul Hasler, Property Claims Manager
Paul Hasler, Property Claims Manager
What does your role entail?

The role of a Property Claims manager is varied, requiring strong relationships with internal and external stakeholders. My primary focus is to continue to develop the expertise of the team. I have seven direct reports and whatever stage a team member is in their career, I work with them to help them grow into the next step or stage of their career. Another major part of the role is keeping underwriters and management updated on  how the property book is performing, and advising them of any major claims or events.
How has your previous role as a claims broker helped you as a claims manager?

I first touched a London market claims file in 1999 with the Aon Property and Liability technical claims team in Romford. It was there I learnt the basics of policy structure and the claims process. Spending nearly seven years as a claims broker enabled me to get a deep understanding of policy wordings and applying coverage without having to make the final decision. During this time, I met a lot of people in the London market and formed some strong bonds that are still intact today; some have become friends outside of work.
I became part of the Hiscox London Market Property Claims team in 2008 where I was given the chance to develop my skills not only as a claims underwriter, but also as a people manager. Over the years I have developed my management skills while still having a mentor to lean on.
What are your key work priorities over the next six months?

My three main priorities: for the team to continue delivering a market leading service to our customers; continue to further strengthen relationships with our key stakeholders, with the aim of raising the profile of Property Claims within the London market; and, identifying and implementing areas where technology can help the claims process.
Hannah Lander, Senior Claims Underwriter
Have you seen any new trends in property claims over the past two years?

Since the pandemic there has been an uptick in heavy industry losses relating to either 'user error' or failure as a result of machinery having not been used. Both relate to the pandemic where industries were shut down by governments and staff were made redundant, meaning new staff are now having to be retrained. Often, the machinery used in places like power plants is not designed to be 'shutdown' for long periods so failure is not a surprise. The issue with these losses is that it can be difficult to determine the exact cause.

What is the most important thing you've learnt since working at Hiscox?

To look for new opportunities; to get involved in things that are perhaps outside of your day-to-day job or comfort zone; and, that people are always willing to help!

What advice would you give to someone looking to start their career in insurance?

Get involved, meet people, network lots – both internally and externally – and take every learning opportunity you can. This is a people business and there is a lot to learn.
James Bruce, Senior Claims Underwriter
What has been your biggest achievement since joining Hiscox in 2016?
On the 1 April 2023 I was promoted to Senior Claims Underwriter.

How did your secondment in the operations department make you a better claims underwriter?
When I first joined Hiscox, I was handling claims for our UK retail team based in Colchester. I decided that I wanted to learn about a new area of the Hiscox Group and was grateful for the opportunity to spend six months within Hiscox London Market Operations on a secondment. I enjoyed my time so much that I decided to stay and accepted a position in the Hiscox London Market claims team.
The operations team offered me an introduction to syndicate business in general, which operates quite differently to our retail business. It meant that when I joined the claims team, I was able to hit the ground running. The operations team also works with most parts of the wider Hiscox London Market business and so it was a great introduction to the business unit in general.
Being able to move internally into different teams and business units throughout my time at Hiscox has been invaluable to my personal development. I also believe that I have been able to provide some fresh perspectives for my current team based on my experiences elsewhere.
What's your favourite thing about handling London market property claims?

No two claims are identical and as a team we see a wide variety of claims, across different lines of business and spanning open market and binder placed policies. It can be challenging at times, but I find that highly motivating.
Hayden Pyle, Senior Claims Underwriter
What has been the most interesting claim you've worked on?

From stolen jewellery, to damaged artworks and musical instruments, each claim poses different challenges. I am frequently impressed by the quality of restoration we see, be that fixing a torn canvas thread-by-thread or rebuilding a rare violin after severe transit damage; these items can often be heirlooms of great sentimental value and it is satisfying when they can be saved for future generations.
What is the most exciting part of your role?

On rare occasions stolen artworks can re-surface decades after the original theft – recovering such items can be a sensitive, complex and exciting task working with numerous parties, with the goal being to offer the artwork back to the original owner where possible. I have collaborated on the successful return of several important paintings by 20th Century Masters.
What does Hiscox London Market do best when it comes to handling claims?
Technical expertise is important and we are fortunate to have a wealth of experience across our lines of business; having studied art history and worked in an auction house for example, helps me empathise and understand many of the issues that arise on fine art claims. Additionally, we have built valuable working relationships with experts, from inside and outside the insurance industry, on a global basis, to ensure that claims can be handled effectively and efficiently, working closely with the insured.
Lee Whitfield, Claims Underwriter
How has the insurance industry changed over the last 30 years?

Technology and innovation are the greatest changes I have seen. From a claims handling perspective this has enabled greater opportunities for more streamlined claims processes, faster and improved loss mitigation measures, and an overall better customer experience.
 
What do you think is the most important skill to have as a claims underwriter and why?

Undoubtedly, compassion and understanding for the customer when they are going through the difficulty and stress of an incident that has impacted either their own lives or their business are the most important skills. An insurer that is human, fair and enables them to get back on track with as little additional stress as possible are what every customer hopes for when they buy an insurance product.

What should someone know about you that isn't on your CV?

I always try my best in everything I do, whether it's at work or pursuing my hobbies.. For instance, a while back, I started doing lifesaving as a hobby, but it soon became a big passion. After three years of intense training, including swimming in the sea almost every night and volunteering as a lifeguard at the beach, I became a National Champion.
Robert Bragg, Claims Underwriter
How did you get into insurance?

Not another "I fell into insurance" person? Yep! I thought that I was dead set on studying physiotherapy at university, but while completing my application I stumbled across a newly advertised apprenticeship scheme with Hiscox. It's not something I ever imagined would be of interest to me, but almost seven years later I'd say I'm quite happy with the decision.

How would you describe the Property Claims team in three words?

Dedicated, collaborative and conscientious (thanks Thesaurus!).

What is the most valuable skill you have learnt whilst being a part of the Hiscox London Market Claims Centre?
Communication, without a doubt. But I'd also say that handling multiple classes of business gives you a broader perspective for future claims handling. Every class has its own intricacies, and these skills often positively transfer between one another.
Nicky Proud, Claims Underwriter
What is the best part of your role as a property claims underwriter?

For me, whilst I really do enjoy the wide variety of claims that come through – which could be anything from a house fire to a large cat event – the best part of my role is the collaboration. It's enjoyable working alongside all our stakeholders, such as other syndicates, brokers, lawyers, third party administrators and adjusters.

What is one of the most surprising things you've learnt about working in insurance?

Having worked in the industry for over 20 years, in both claims handling and broking roles, there is always something new to learn. In my current role – predominately North American property binder claims – a vital part is keeping up to date with any legislative changes in each US state or Canadian province.

How can brokers best help you during the claims process?

I think the best help is the continuation of brokers being available to talk on the phone – or meet for a coffee – to discuss more complex cases, as and when they arise. From the three years that I've been on the Property Claims team, I've really enjoyed getting to know our brokers and I think having these discussions creates a more human approach to resolving claim queries.
Jade Jones, Claims Underwriter
What inspired you to become a claims underwriter?

I started working for Hiscox UK in the Sales and Service team which gave me an insight in to a number of different teams, one of which was claims. I see claims as when the rubber meets the road and a true test of what we promise. I also love talking to and getting to know people from all different walks of life. A lot of claims situations may be the same but the people you encounter makes each one different.

What has been the best skill that you have developed since working at Hiscox?

My problem-solving skills have come on leaps and bounds since working at Hiscox. Claims are not always straightforward and easy to resolve, and you often have to think outside the box to find a resolution that everyone is happy with.

What has been the most pivotal point in your career so far?
I would say it would be joining Hiscox London Market claims. Whilst still dealing with property insurance, handling claims in the US versus UK can be very different due to the legal systems. Joining Hiscox London Market has been great and put my career on a whole new trajectory.
Rebecca Barker, Claims Underwriter
How does your role as a Hiscox London Market claims underwriter differ to your previous role in Hiscox retail?

In Hiscox retail, the claims were all UK based, whereas Hiscox London Market claims can take you all over the world. The bulk of the claims I handle are for our US customers; it is a much more litigious area and my role now includes communicating with counsel and considering our legal strategy for claims on a daily basis. There is also a heavier reliance and appreciation for our local experts when having to consider the impact of different legal systems, construction methods and materials, and cultural influences on a claim.

What trends have you seen develop since specialising in property claims?

There has been a rise in both the severity and frequency of cat events. I always prepared myself to be busier during 'hurricane season' but the amount of weather-related events seem to have really increased over the last few years, and we are now seeing huge storms, wildfires, floods, extreme heat and freeze events throughout the year.

How is technology impacting your role and the claims journey?

Technology makes my role easier and improves the claim journey for customers. We can now get drone footage in days after a hurricane, for example, which allows us to assess the claim and indemnify our customer much quicker than before when we'd have had to wait for flood waters to recede and paths cleared for our adjusters to safely visit the area. We've also recently improved our internal claims management system which has made processing more efficient and allowed for a more proactive management of claims, both of which speed up the claims journey for our customers.