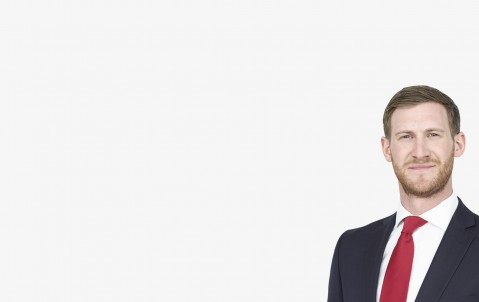 60 seconds with...Richard Halstead
29th January 2021
War, Terrorism and Political Violence Line Underwriter, Rich Halstead on how he stumbled into insurance and the risks of a post-COVID world leading to mass unrest in countries around the world.
What is your role at Hiscox?   
Line Underwriter for the War, Terrorism and Political Violence team. 
How long have you been in insurance and at Hiscox?  
I've been in the insurance industry for 13 years and at Hiscox for 12 years.  
What drew you to the insurance industry?   
It was a complete accident. I wanted a job in risk mitigation with a firm like Control Risks. That sounded dramatic and exciting and my degree was in War Studies so there was an obvious connection. During my third year of university (as the appalling realisation dawned that I was shortly to be leaving the comfortable surroundings of uni life to emerge into the brutality of the real world) I applied to a number of roles including a graduate scheme with AON in crisis management. The subtle distinction between risk mitigation and risk management eluded me at the time. After a slightly confused initial interview I somehow made it through to the second stage of the process despite thinking I was interviewing for a completely different job and not knowing anything about insurance. Before the second round I swotted up on the Lloyd's market to correct my mistake, decided it sounded pretty interesting and that I should go for it, and the rest is history. 
What drew you to Hiscox?  
At the time I first had a chat about a role at Hiscox it was a company with a superb reputation built on stellar results. I raised it with my boss at AON (where I was working at the time and about to change rotations on the graduate scheme) and asked him what he thought and he said the opportunity was without question something I should go for.
What are the most pressing issues in your world currently?
The risk that increasing dissatisfaction at living standards in a post-COVID world of economic hardships leads to mass unrest and significant damage to assets in countries around the world. It's always cheery in Terrorism. 
How has COVID-19 impacted your line of business?
Thus far not directly but it has the potential to be a key driver in unrest which we could end up paying for.  
What do you predict will be the biggest threats that your terrorism clients will face in 3-5 years?  
I'm concerned about right wing extremism leading to terrorist acts in the US. There is then a shopping list as long as my arm of things that could be an issue – Hong Kong and the reaction to China's increasingly authoritarian control, a resurgent Al Qaeda, increasingly volatile protests against the regime in Thailand, the Yemeni conflict reigniting, unrest across LATAM due to dissatisfaction with the political status quo - and that's before you even get onto thinking about the more random events that often blindside us – for instance no one saw that level of unrest in Chile developing in October 2019 and the year before we had no idea unrest in Haiti would hit us as hard as it did. 
Why is having crisis management capabilities important to your line of business?
Essentially to offer a complete and balanced suite of services to a client to ensure they can cover off all their blind spots in one place with one carrier. I think a product like SIR (Security, Incident, Response), when sold in conjunction with Terrorism and Kidnap & Ransom, is a very compelling proposition that gives risk managers and CEOs the ultimate tool kit to respond to unexpected and threatening events.  
What are three words to describe Hiscox Crisis Management?  
Best in class (sorry that's probably cheating). 
What's the best thing about your team?
The sheer level of experience, we've all been around a long time and we know our markets inside out. We're proven entities.