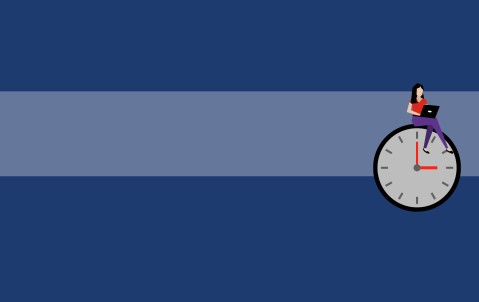 Celebrating International Women's Day: Maintaining a healthy work-life balance
In their own words… maintaining a healthy work-life balance 
The world marks International Women's Day on the 8 March, 2022 as a celebration of "the social, economic, cultural, and political achievements of women". The theme this year is #BreakTheBias with a call to "Imagine a gender equal world. A world free of bias, stereotypes and discrimination. A world that's diverse, equitable, and inclusive. A world where difference is valued and celebrated. Together we can forge women's equality." 
At Hiscox, as part of our own commitment towards diversity and inclusion in the workplace, we thought we'd like to explore three themes that are often, stereotypically associated with women in the workplace: work-life balance, imposter syndrome, and self-confidence. So, we asked around for some willing volunteers in the business – women and men – to give us their thoughts on each theme; what they understand by work-life balance, imposter syndrome, and self-confidence, how they impact their own lives, and how best to manage them.  
In this, the first of three articles, we start by looking at work-life balance. This is what our colleagues said, in their own words… 
My definition of a healthy work-life balance is… 
"For me, it's about knowing where to draw the boundaries and when to switch off mentally from work. It's not just about the workplace, it's also about the individual choosing to have that confidence to say enough is enough." – Esther Williams, Senior Claims Underwriter, Casualty 
"Work hard and play hard. Spend time with family as well as take time in your own private hobbies."  
– Michael Ehioze-Ediae, Senior Claims Underwriter, D&O 
"Being able to manage my work in my own way." – Victoria Knight, Commercial Property Underwriter 
"A good work-life balance is a feeling that I don't have to compromise my career to have a family, I can have both." – Jenna Hales, Claims Manager, Marine, Energy and Specialty 
"It's about not feeling guilty for doing what you enjoy outside of your work."  
– Charlie Berry, Crisis Management Claims Underwriter 
"I very quickly notice when my work life balance is out of sync, especially when you've got two young children, they're very vocal and tell you what they want: 'mummy get off the computer!'."  
– Jade Warden, Terrorism Underwriter 
"Work has always been really important to me, I'm really proud to work for Hiscox. But having down-time, to spend with my wife and 7-month-old daughter, and exercising is also vitally important to keep me on the right track …it keeps me energised to get back into work and do my best."  
– James Brady, Interim Marine, Energy and Specialty Divisional Director 
What I do to sustain a healthy work-life balance…
"Every Friday I look at the next 48 hours and say what will I do in this time that reflects me and recharges my batteries."  
– Lara Frankovic, Line Underwriter, US General Liability 
"I've learnt to put myself first more this year. There is nothing wrong with taking time out for you, as you have to take care of yourself first before you can take care of others - you can't charge a battery from an empty battery." 
– Aimee Nolan, Cargo Line Underwriter 
"Learn to accept that no matter how much work you get through today, there will always be more tomorrow. Go and live the rest of your life. Take the time to learn what's important to you, and try and build good habits around those things." – Esther 
"Be smart with your day so that you can prioritise what you want." 
– Anastasia Tzortzi, Underwriting Support Team Leader 
"Set clear goals as to what you want to do with your time and achieve what you need to do that week and that month from a work, exercise and family perspective. I set my diary 4-6 weeks out with non-work stuff and plan time for exercise." – James 
"Recognise the importance of the imbalance and do something about it."  
– Louis Cozon, Energy Underwriter 
My biggest challenge to a healthy work-life balance is… 
"Trying to be everything to all people" – Aimee 
"Working at home with the children over the last two years has been unique. I won't ever feel like I'm achieving as much in a normal environment. There's a reason we don't take our children to the office." – Jenna 
"The juggling it takes to be a full-time working person in the city and a parent; to do your job successfully, to travel and to spend evenings with your child - and the unpredictability that comes with them." – Lara  
"Have I spent enough time with my children, should I be on an away day or be with my children?" – Michael 
"We wouldn't be doing our job properly if we never put work first, but it's about being flexible." – Jade 
"I like my job and can find myself working a bit too late in the evenings and not fully switching off, but working from home has given me a great opportunity to spend more time during the day with my ten-month-old child." – Louis 
What I'd say to someone who is struggling to maintain a healthy work-life balance…
"You have to just stop! You have to call it out and set aside some time that's over and above your normal catch-up time and be honest with your boss. People aren't coming to work to run themselves into the ground and to let it affect their physical and mental health. Your employer doesn't want that, you as an employee don't want that. You shouldn't be nervous to ask for help if it gets to that stage; you'll be surprised at how open and supportive your team can be." – Ishaan Rahman, D&O Underwriter 
"People might not realise that there is a need to support you if you're doing as many hours as you can, you're masking the problem, which is why communication is very important." – Anastasia 
"I'm a huge advocate of working with a counsellor, to unload, and get an external view from someone unconnected to the industry. It can really break up your day and help you see it from a different perspective. Mentors are also really helpful." – Aimee 
"Take a step back and look at what is really important? What is most valued in your life? Does it have to be done now? Live in the present, not the future or the past. You are not just your work, be present in other areas." – Michael 
"List out your priorities, document the work requirements and sit down with your manager or a colleague so you can discuss together what are your priorities and what could be shared with the team." – Jenna 
Work-life takeaway 
'Taking a step back', 'prioritising yourself', 'talking to others', and 'being kind to yourself' were all phrases and sentiments that came up regularly when it comes to reaching a physically and mentally healthy work-life balance.  
Everyone we spoke to accepts there are times when the work-life imbalance will get out of hand, but by making sure you take time to constantly reassess work priorities and make time for yourself, the balance can be restored.  
Next up, we'll find out what our colleagues said about impostor syndrome.