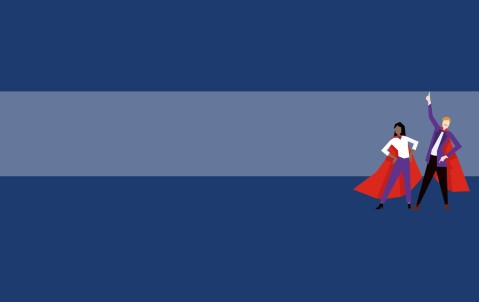 Celebrating International Women's Day: Self-confidence
11th March 2022
The world marks International Women's Day on the 8 March, 2022 as a celebration of "the social, economic, cultural, and political achievements of women". The theme this year is #BreakTheBias with a call to "Imagine a gender equal world. A world free of bias, stereotypes and discrimination. A world that's diverse, equitable, and inclusive. A world where difference is valued and celebrated. Together we can forge women's equality." 
At Hiscox, as part of our own commitment towards diversity and inclusion in the workplace, we thought we'd like to explore three themes that are often, stereotypically associated with women in the workplace: work-life balance, imposter syndrome, and self-confidence. So, we asked around for some willing volunteers in the business – women and men – to give us their thoughts on each theme; what they understand by work-life balance, imposter syndrome, and self-confidence, how they impact their own lives, and how best to manage them.  
In this, the third of three articles, we look at self-confidence. This is what some of our colleagues said, in their own words…(if you missed the earlier pieces, click here for work-life balance and here for impostor syndrome). 
Self-confidence to me means… 
"When internally, I feel comfortable and therefore match the happy, buoyant and bubbly exterior." 
– Aimee Nolan, Cargo Line Underwriter 
"Having a foundational belief in your own abilities, even if you don't know something."  
– Michael Ehioze-Ediae, Senior Claims Underwriter, D&O 
"Self-confidence to me is when I feel calm and relaxed and at peace."  
– Jade Warden, Terrorism Underwriter 
"You have the ability to put yourself in unknown or unfamiliar situations and not feel that you can't do them."  – Charlie Berry, Crisis Management Claims Underwriter 
"Belief in yourself and knowing you're capable of doing the task of what you're expected to do." 
– James Brady, Interim Marine, Energy and Specialty Divisional Director  
"I haven't cracked self-confidence, no one ever cracks it. It's a journey, it takes work every day." – Esther Williams, Senior Claims Underwriter, Casualty 
My biggest challenge with self-confidence… 
"I'm a prolific blusher, I go red everywhere! I would blush for blushing and I felt everyone would always be looking at me; it was a constant worry. But if I notice someone is blushing, what do I think of them? It's a really human reaction and it makes me like them more, so slowly I am learning to let go."  
– Jenna Hales, Claims Manager, Marine, Energy and Specialty 
"I didn't go to university, I haven't finished my ACII qualifications which makes it really damaging to compare yourself to others on paper. But it's that realisation that you bring something else." – Aimee 
"Coming back into underwriting after three years out of the industry and into a completely different area and at a higher level as well as the expectations that I had with a 7-month-old baby, I really did struggle with my confidence. But a colleague told me that if you constantly keep pushing your circle of confidence it will keep getting bigger and bigger and bigger."  
– Jade 
"As a woman I've been taught to step-back, whereas men are taught to have a go." – Esther 
When I have moments of self-doubt I… 
"When you say something out loud it automatically becomes smaller"  
– Anastasia Tzortzi, Underwriting Support Team Leader 
"I remind myself I know my claim files, I know how my policies work, I know I have the tools to present something. I accept the discomfort and uncomfortable situations, but I will show up and present myself for the days I feel confident and days that I don't." – Esther 
"I try not to bottle it up inside and not let it own me." – James 
"I take a step back, and tell myself that I will make it through the period of self-doubt whether it's a day, a week, or a month. If you're having a confidence crisis, know that it's temporary and you weren't always in that state of mind". – Aimee  
"I am very good at self-awareness and knowing when I'm not in a good place. I have a hard chat with myself and pull myself out of this. The first thing I do is call my mum for a chat when I'm having a bit of a blip." – Jade 
"Don't let the frustration or negative feelings get me down. Don't let it beat you. You don't always need to bounce back; you can accept that you're not going to rush the resilience process."  
– Victoria Knight, Commercial Property Underwriter 
"Presenting to a big audience or senior member of the company creates self-doubt but ultimately it's never as bad as you work it out to be in your head."  
– Ishaan Rahman, D&O Underwriter 
Self-confidence takeaway 
Self-confidence means different things to different people but having that feeling that everything is 'OK' seemed to sum it up for many. There is often an aspiration to be self-confident in everything we do, but we should perhaps recognise that it's not always, if ever, possible. And, who says that self-doubt is a weakness? Not the Hiscox colleagues we spoke to here who see it as a very human characteristic. All agreed that open and honest communication with family, friends and team members is an important part of the self-confidence process.