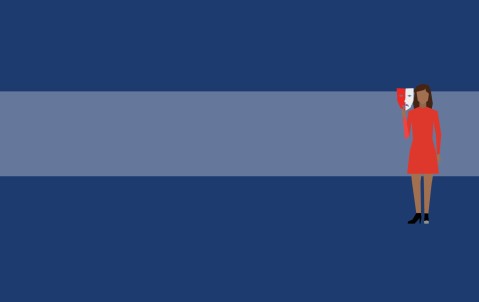 Celebrating International Women's Day: Dealing with impostor syndrome
The world marks International Women's Day on the 8 March, 2022 as a celebration of "the social, economic, cultural, and political achievements of women". The theme this year is #BreakTheBias with a call to "Imagine a gender equal world. A world free of bias, stereotypes and discrimination. A world that's diverse, equitable, and inclusive. A world where difference is valued and celebrated. Together we can forge women's equality." 
At Hiscox, as part of our own commitment towards diversity and inclusion in the workplace, we thought we'd like to explore three themes that are often, stereotypically associated with women in the workplace: work-life balance, imposter syndrome, and self-confidence. So, we asked around for some willing volunteers in the business – women and men – to give us their thoughts on each theme; what they understand by work-life balance, imposter syndrome, and self-confidence, how they impact their own lives, and how best to manage them.  
In this, the second of three articles, we look at impostor syndrome. This is what some of our colleagues said, in their own words…(if you missed the first piece on work-life balance, you can read it here.)
My definition of impostor syndrome… 
"It's that feeling of being not worthy of where you are or what you have achieved, 'what the heck did I do to deserve this?'" – Lara Frankovic, Line Underwriter, US General Liability 
"That's a hard question to answer, I almost Googled it…"  
– Anastasia Tzortzi, Underwriting Support Team Leader 
"It's feeling like you're vulnerable and out of your comfort zone. However, feeling vulnerable, shouldn't be seen as a weakness – it's authentic."  
– James Brady, Interim Marine, Energy and Specialty Divisional Director 
"It's an inner voice within that's meaner and tougher to yourself."  
– Victoria Knight, Commercial Property Underwriter 
"Waiting to be found out! One conversation can lead to someone saying 'why did you employ her'." 
– Aimee Nolan, Cargo Line Underwriter 
"It's a horrible feeling that you're not really qualified for what you do and that you're going to get found out any day. Self-doubt in the back of your mind saying, 'what am I doing here?', 'why have they given me this job?'."  
– Esther Williams, Senior Claims Underwriter, Casualty 
"For me, it's the idea that a responsibility is more than you can bare. Anyone who is reflective and thoughtful should feel some form of imposter syndrome. So, it's a good thing to feel an element of imposter syndrome."  
– Michael Ehioze-Ediae, Senior Claims Underwriter, D&O 
"Where you feel a bit of a fraud."– Jade Warden, Terrorism Underwriter 
Have I suffered with impostor syndrome? 
"None of my family work in white collar industries so there is a lack of role models or lack of close mentors - I couldn't see myself in a suit, going to work in the city. You walk around the city with your team and for them it's normal to see friends or family from home, but for me, I've never seen anyone from my childhood days who works here, it's just me."  
– Charlie Berry, Crisis Management Claims Underwriter 
"For me, it's not a female/male thing, I don't feel an impostor because I'm a woman. I feel like an impostor because I'm not British; I'm not educated in Britain; I'm not your usual person in the city. But it's a very light feeling that quickly goes away." – Lara 
"I've definitely suffered from it and I wouldn't be surprised if most people have at some point. It's a very common experience but not widely spoken about." – Aimee 
"Of course I have. In terms of gender representation and as a young female; you know you are physically different to others in a meeting and that can be a trigger to impostor syndrome." – Victoria 
"I've been put in positions I wasn't ready for and when you feel people's disappointment, it's a really hard thing to digest." – Jenna Hales, Claims Manager, Marine, Energy and Specialty 
I think people develop impostor syndrome because… 
"As a black person, and as a woman, it can feel like I don't belong here. Do I have a right to be here? Or in this meeting room? It's a very self-conscious feeling and once you're suffering from these things it's hard to escape"– Esther Williams, Senior Claims Underwriter, Casualty 
"If someone makes a negative comment to you it can really stick with you for a long time." – Jenna 
"In today's society there is this social infrastructure that has been created where everyone is comparing themselves to their neighbour and colleague. LinkedIn doesn't help; it's great as it celebrates success, but it's made people conscious of discussing their failures. There isn't a culture of talking about their failures. In a better world, we should all be more comfortable talking about our failures. There is a good culture at Hiscox where you talk openly about failures and learn from them." – Ishaan Rahman, D&O Underwriter 
"I'm a woman from Croatia. I've never studied in the UK and I lived in Italy for 18 years. My English vocabulary outside of business talk is limited. People here have lots of different backgrounds to me. I don't fit into the mould so that makes me feel like an impostor." – Lara 
My advice to my younger self on dealing with impostor syndrome… 
"The company hired you because they believe in you." – Michael 
"There is no right or wrong or pressure to be x, y or z; you can carve out your own route. You can define success and everything in your life. Once you've accepted that, you can be less hard on yourself. Only you define what your success is." – Victoria 
"Get a rainy-day folder and put everything that you're proud of in the folder, and take a regular look at the folder and reassure yourself by looking at your past successes."  
– Anastasia 
"Speak to as many people as you can and the more people you speak to, the more experiences you'll hear. You might meet someone who has a similar experience to you, what challenges they've faced and how they dealt with them. You may even find yourself mentors who are role models or who you look up to. I've found role models through internships and it's been a great way to lean on someone, especially in the early stages of your career." – Charlie 
 "Everyone goes through it. Be more comfortable in talking about it and tell people you're feeling anxious. Everyone is blagging it a bit!" – Jade 
"Every day will be better than the previous day; every day you will learn something new and you will broaden your understanding of the industry. Don't look backwards, but look forwards to what you haven't learnt. Try to step away from the emotion and step into the practical aspect of the job."  
– Ishaan  
Impostor syndrome takeaway 
There are few here who say they have never suffered from impostor syndrome – none of our colleagues who we spoke to said they had never experienced that feeling. Some saw it not as a weakness but something to use to build knowledge and experience. And many have accepted that it will probably never disappear as a feeling. So why fight it? 
In our next piece, we'll find out what our colleagues said about self-confidence.