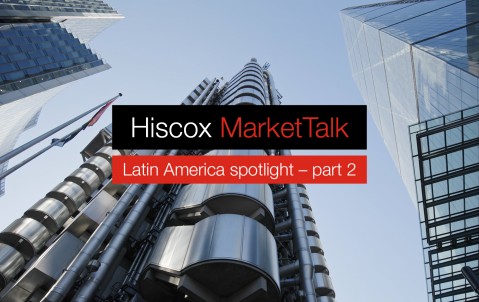 Chile at a crossroads
31st March 2021
Once known as the "Switzerland of Latin America", Chile has been engulfed in protests. How it addresses those grievances is key to its future.
Chile is at a crossroads. The country, once renowned for its political stability in a region notorious for its volatility, is under intense pressure to tackle longstanding social and political grievances. The success of those reforms could have lasting consequences on Chile's prospects, say regional experts on the latest Hiscox MarketTalk.
The country was convulsed by anti-government protests in 2019-20, which spread quickly from rallies against fare hikes on Santiago's public transport to complaints about the state of the country's public services and social inequality which eventually led to calls for wholesale constitutional reform.  
The broad protest movement didn't result in a detailed list of changes, as it was, says Daniel Linsker, a Partner at Control Risks, "an effectively leaderless wider movement, with varying demands… So, there's no specific end in sight."
But certain reforms are likely to result, he says, such as wider access to education and healthcare, reform of the military's role in national life and a redistribution of earnings at Codelco, the state-owned copper giant. But, Linsker concludes, they will probably not have much effect on Chile's short-term political stability.
Electoral reforms, on the other hand, could have longer-lasting repercussions. Changes to Chile's parliamentary system could lead the country's politics to become more polarised, says Linsker. Chileans also voted overwhelmingly in October 2020 for a new constitution to replace the one written when the country was under military rule. But redrawing it could have economic consequences, he suggests.
There has been a long-running dispute between the country's indigenous people and its government over land rights and cultural recognition. Chile's existing constitution does not recognise the rights of its indigenous people, who make up over 12% of the population, the largest group of which are the Mapuche. But campaigners are hopeful that indigenous peoples' rights will be included in a new charter. If so, they could get an effective veto over future large development, mining and energy projects on vast tracts of land they traditionally claim as their own, Linsker says.     
Chileans could still end up disappointed by their new constitution, however, says Christopher Sabatini, a senior fellow for Latin America at Chatham House. "The risk is that over the long term, Chileans have vested way too much ambition in this constitution and there is no way a constitution can do everything people believe it's going to do – improve their lives, improve social mobility, improve schools."
It's unclear how Chileans will react if their demands aren't met by the new charter. "Will they feel even more disgruntled and disheartened and take to the streets? I think that's the risk for the long term," says Sabatini.