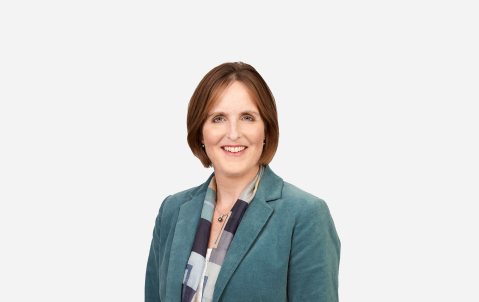 'Embrace equity' – International Women's Day 2023
7th March 2023
The #EmbraceEquity theme for this year's International Women's Day – 8 March, 2023 – calls out the need for "A focus on gender equity…to be part of every society's DNA." Equity in this context means "creating an inclusive world" and, according to International Women's Day, "When we embrace equity, we embrace diversity, and we embrace inclusion."
Hiscox London Market's CEO Kate Markham shares her views on the progress of equity in her own workplace over the years; the actions Hiscox is taking to progress inclusion; the value of having a workplace that celebrates 'difference'; and her career tips to women setting out on their careers, and those looking to progress into senior positions.
How have you seen the progression of equity in the workplace over your career? And from an insurance industry perspective? 
When I joined Hiscox – over a decade ago – I was surprised to be one of four women in the Hiscox UK leadership team (out of 11), whereas my background had always been as the only woman in senior roles in my previous telecoms career.

The insurance industry has made some great strides – there are women now in some of the most senior positions in the industry and here at Hiscox two of our biggest business units are run by women – but we know there is a still a long way to go both from a gender perspective and also in terms of wider diversity.
What actions have you taken in Hiscox London Market to address equity and 'celebrating difference'?
We have a clear strategy for building an inclusive business based around four cornerstones: engaging our leadership to lead, and be seen and heard on diversity, equity, and inclusion (DE&I); to help all current and future employees see themselves in our story; ensure that DE&I is business as usual across all aspects of the business from HR to underwriting; and make sure we have the data and insight to set goals and measure our progress.

Our key performance indicators for DE&I include recruitment targets of employing women for 50 percent of roles for the majority of the business, and 50/50 (women/men) recruitment shortlists at our most senior levels, with an aim to achieve a minimum of 45 percent female representation in those jobs. We also have a target of one candidate from diverse networks per recruitment shortlist. In addition, we want to improve our DE&I response rate in our annual employee engagement survey by 5 percent and see a reduction in references to recruitment and advancement barriers in the commentary which will show we are making progress in these issues.

Since Hiscox began reporting our gender pay gap in the UK, we have seen year-on-year incremental improvements and I am pleased that for 2022 we have continued on that path. On a mean basis, our gender pay gap has reduced by almost half since we first started reporting on it, and taking the median, the gap is now 8.8 percentage points lower than in 2017.
Our gender pay gap reflects the higher proportion of men than women in higher-paid, senior roles and is not to be confused with 'equal pay'. While we have seen the number of women in senior roles grow, we recognise that there is still some way to go, and we remain committed to improving representation of women at senior levels.
What value to an organisation comes from having a diverse workplace and being different? 
I'm thrilled to be the Executive Sponsor of DE&I at Hiscox as I have always been passionate about talent and talent alone. To thrive as a company in this fast-changing world, we need to ensure we make the most of our talent, and as part of this, cherish our differences and the strengths we all bring. It's key that we harness the different thinking, attitudes and approaches that come from a diverse workforce. Of course, we've always believed in having 'the best person for the job' at Hiscox. That hasn't changed, but we are making huge efforts to truly level the playing field so that everyone has the chance to get on and grow with us.
What advice would you give to women setting out in their careers? And similarly for women looking to advance into senior positions?
I think the greatest challenge for women is the lack of role models around, and hence the key thing is to find your own way. Focus on developing your own natural style rather than copying others and don't be afraid to be feminine. I don't believe you have to develop masculine behaviours to succeed.

As a woman, people assume lots of things about you – how hard you will want to work, and what job you might want to do when you come back from maternity leave for example. That is the hardest thing to unpick – to not let people make assumptions about you and what you want to do.
Do something you love and always get involved when interesting things are happening in the business. My greatest learning experience was when I was furthest outside my comfort zone in a new role which saw me for the first time in a leadership role; first time managing managers; and first time running a business. Doing all three together was a big stretch. I learned faster than I ever had though and often reflect on those tough early days when I was finding my feet. 

Setbacks are inevitable though and it's important to take time to reflect on what went well and what didn't and learn any lessons for the future. I don't believe in wallowing in the past either. Work out what you're going to do and take action, which can include taking advice from others. Finding a good mentor at any stage of your career is invaluable.