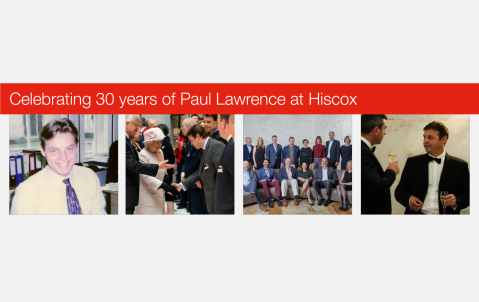 Celebrating 30 years of Paul Lawrence at Hiscox
17th November 2022
Paul Lawrence left school on Friday and started work in the London Market the following Monday. He's never looked back since and celebrated 30 years at Hiscox earlier this year.
The London Market's has transformed during the more than three decades he's worked in it. But for him the biggest change is in how the market is regulated. "When I joined Lloyd's, the only regulator was Lloyd's," he said in a video interview to discuss his career. "No one talked about capital, no one talked about return on equity. Those are now the key drivers of performance."
It's the underwriting Room at Lloyd's, where brokers and underwriters meet to discuss risks and exchange information and gossip, that remains the London Market's beating heart, and which makes it so unique, Lawrence says. "If we lose that I wonder what makes London different to Amsterdam or Paris or New York."
When the Room was forced to close during lockdown, it showed "the market can survive without face-to-face trading, [but] I think it's worse off without it," he says. He hopes Lloyd's finds a way to recreate the excitement around coming into the Room that it had when he was a young underwriter. "If we find a way to make that work, I think we retain that USP that the Room gives the London Market."
But he's quick to point out that London is riding high right now. "Today, brokers see no shortage of opportunity of business flowing into London. In fact, I think the biggest challenge is does London have the appetite for the business that's coming in?"
Like many London Market insurers, the prolonged soft market that reigned for much of a decade and which ended only abruptly a couple of years ago, was challenging for Hiscox, but Lawrence is excited for its future. "I think through hard work [and] the determination of the team and what we've done in terms of remediating our portfolio, we're well on the way" to success, he says, adding that it was one of the best performing Lloyd's syndicates last year.
And why has he loved working at Hiscox for three decades? "It's a business that's always, I've felt, been a meritocracy. If you are good, if you are driven, if you are willing to put yourself out, then you can succeed."