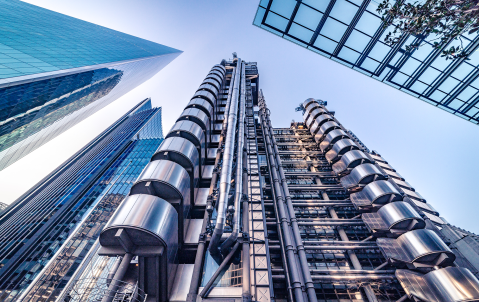 Lloyd's Underwriting Room reopens for business
18th September 2023
From Monday, 18 September 2023, we are back in the Lloyd's Underwriting Room – or as the Chairman of Lloyd's recently termed it, "the world's oldest hot desking space" – and I for one, together with my team, cannot wait to re-establish our physical Lloyd's presence.
Over the pandemic and during this latest period of refurbishment while the Underwriting Room has been closed, we have become used to remote working, as well as moving to electronic trading. But there is still no substitute for the face-to-face trading offered within Lloyd's.
A unique proposition
No other insurance market in the world provides the same trading opportunities that Lloyd's has been delivering ever since it first started underwriting marine risks back in the 17th Century. And you can feel that sense of history and occasion in Lloyd's, particularly when the Lutine Bell rings once and the market comes to a standstill knowing something ill-fated has occurred such as the World Trade Centre disaster in 2001, and recently the death of Queen Elizabeth II. But it also celebrates by ringing twice for good news and earlier this year rang out to mark the accession to the throne of King Charles III.
Here at Hiscox, our own Lloyd's history stretches back for well over a hundred years and we are proud to underwrite in the new Underwriting Room across our product range. There is a real buzz to the Room when it's in full flow and it really feels like the bustling marketplace that it is.
But above all that, it is a fast, efficient and practical way to do business where brokers can get instant decisions on complex risks and answers to queries direct from an underwriter. That personal interaction is invaluable for brokers, clients and underwriters alike, and must be retained.
Trading complex risk
Yes, we can transact business outside of Lloyd's and frequently do whether purely digitally or in our own – newly opened – offices at 22 Bishopsgate, but we value the flexibility to go to a marketplace in person where complex risk can be traded. It is, of course, about trading in any way in which our clients and brokers want, and the new Lloyd's Underwriting Room which represents a blend of "digital transactions with human interactions; artificial intelligence with emotional intelligence; and machine learning with learned experience," will continue to be an important part of our offering.
'Thrilled to be back'
On a personal level, I love the variety in the working day from 'hot-desking' at Lloyd's, and from a commercial perspective, value the unrivalled opportunities Lloyd's brings. From Monday the Hiscox Marine, Energy and Specialty team will be back in our new Box in the Underwriting Room and if you are a broker looking for help with a risk, or just want to drop by to say hello, we look forward to seeing you there.