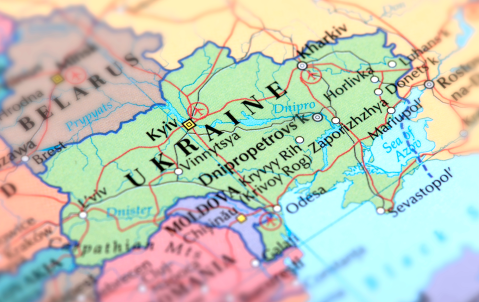 Responding to the war in Ukraine
On 24th February 2022, Russia invaded Ukraine. The war has impacted the lives of millions of people and its effects have been felt across the globe. In insurance, it's created unique challenges in supporting clients and in assessing tomorrow's risks in a more volatile world.
One of an insurer's first tasks in any claim is to assess how much damage has been done and understand what impact this has on policyholders. We can then begin the process of organising the necessary support. But in the middle of a warzone that's tough. "Normally, we would deploy a loss adjuster, or if it isn't safe to do so, a drone to assess the damage. But we can't do that in Ukraine," says Laura Flett, Interim Head of London Market Claims at Hiscox London Market. 
"Even after the biggest natural disasters, there will come a point at which we could enter the area to assess the damage. We haven't reached that yet in Ukraine," explains Flett.
"We haven't had a claim yet where we've not made a payment because we can't send people in to assess the damage. Where a policy's been triggered, we're being pragmatic," says Flett.
"We have pieced together what information is available to assess each individual claim. We used satellite imagery to view the damage and arranged video calls with insureds on the ground in Ukraine who have told us what they witnessed before being forced to evacuate the area."
Joanna Green, Crisis Management Claims Manager, explains: "We're trying to progress claims as fast as we can. Where we can't make a final assessment to settle a claim then we're making interim payments. That includes going above and beyond what's normal practice to move things forward.
"Most clients understand the challenges we face, and appreciate the effort we're making," Green says.
A riskier business
For Rupesh Bhudia, Head of Pricing for Crisis Management: "As soon as the Russians attacked Ukraine, the world changed."
Unfortunately, small scale conflict is all too common, and Hiscox, which has been a leader in war and political violence insurance for decades, has plenty of experience in helping clients caught up in them. But, Bhudia says: "what do you do if an entire country is blocked?"
Despite the many unknowns, "we'd made assessments of Hiscox's potential exposure as soon as Russia crossed into Ukraine," says Bhudia. "Our pricing, claims and underwriting teams works closely together to deliver this insight and those assessments still hold good today. Insurance is the business of trying to predict the future. So far, I think we've done a pretty good job."
Hiscox's partnership with Control Risks, the crisis management consultancy, has been enormously beneficial. "They give us daily updates on what's happening on the ground in Ukraine, while their global political insights have helped in our scenario planning," Bhudia explains.
The war, he says, has "brought home to me the interconnectedness of today's world."
The conflict involves Europe's two largest countries, by size, whose goods are vital to every part of the global economy. We all know it created shortages in foodstuffs,  oil and gas that have affected billions of people across the world. The scale is extraordinary.
Ukraine and Russia together account for more than a quarter of the world's wheat exports; they are both among the ten largest exporters of maize and are responsible for 70% of the world's sunflower oil production.
Many African nations depend on Russia and Ukraine for at least 30% of their total wheat imports. Russian and Ukraine also account for over a quarter of the world's supply of nitrogen and phosphorous-based fertilisers, on which many countries rely in Asia, the Middle East, and Latin America.
A rise in food-related social unrest is likely, Control Risks predicts, while the impact on global energy prices is adding to existing social, political and economic tensions within many countries.
Bhudia says: "The pot was already simmering. Covid had already turned up the heat. Now it's boiled over."
The market is stepping up
The war hasn't paralysed the political violence insurance market, even though more businesses globally are clamouring for cover and reinsurers are putting increasing restrictions on cover, says James Short, Senior Political Violence Underwriter at Hiscox London Market.
"We haven't put away our pens and stopped underwriting, despite the uncertainties. We're working closely with Rupesh, Laura, Joanna, and their teams, along with Control Risks, to use the best information to provide coverage around the rest of the world."
The Ukraine war is the latest conflict in three violence-scarred years. "There was unrest in Chile in 2019, riots in the US in 2020, and violence in South Africa 2021, then Ukraine in 2022," says Short. "It's now an increasingly uncertain world, which presents a challenge in writing war and political violence risks."
The war demonstrates the importance of having war and political violence cover, he says. "What might once have been a nice-to-have cover is now regarded by many companies as being essential," Short argues.
The human factor
One year on, what lessons have Hiscox's specialists learned from the Ukraine war?
"It's reinforced to me the importance of good communication and to never make assumptions," says Green. Short agrees: "Prepare for every scenario, no matter how unlikely it seems."
An extraordinary situation requires a forthright response, says Flett. "It's taught me to not be afraid to take the initiative to support our customers. We lead a lot of these risks and many in the following market look to us to see what we'll do. We shouldn't be afraid to be bold and tell others what we believe should be done to take a claim forward."
Supporting customers involved in the conflict reminds us that, above all, it's a human crisis.
Green concludes. "We're talking to people who are under constant threat. They're trying to continue with business as usual when nothing is usual."  
Bhudia says: "The 21-year-old me would be proud of how we are helping our clients deal with a terrible experience. It shows that insurance really can do good."