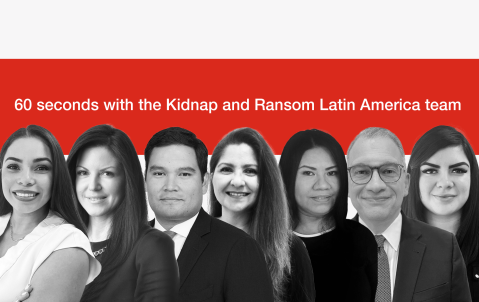 60 seconds with… the Kidnap and Ransom Latin America team
30th August 2022
In this 60 second article we spoke to the Hiscox London Market K&R Latin America team in Miami get a better understanding of the their key priorities and to learn more about how they got into insurance. If you missed our last 60 second article on the Wordings team, you can read it here.
"I am so proud to lead the Hiscox Crisis Management Division. Our K&R Latin American team are such a core part of what we do best. The team have a wealth of experience, provide great local expertise and drive service for our customers. I am very excited with what we are doing with data and information technology (that landscape is certainly changing fast) but at our core, we are a people business. When in a crisis, you want and need that personal service and that's why this team, and our partners at Control Risk, are so special. I hope you enjoy reading our 60 seconds article and if you'd like to find out more please don't hesitate to get in touch".
Mike Williams – Crisis Management Divisional Director
Napoleon Montes-Amaya
How did you get into insurance?
Surprisingly, I didn't plan a career in insurance. One day, a Terrorism underwriter from Hiscox came to my Political Risk Analysis class in college and gave a presentation about terrorism insurance. After a quick chat, I handed her my resume and well, the rest is history.
What do you predict will be the biggest threats that your clients will face in the next 3-5 years?
Deterioration of socio-economic conditions in Latin America, which are already leading to an increase in criminality and social unrest.
What are the priorities for your team over the next 6 months?
My key priorities for my team are to raise product awareness amongst young professionals and business people. Our generation has been privileged to live a long period of economic growth and social stability in Latin America. We often believe that history is not likely to repeat itself, or at least that things will not happen to us. However, Latin America's history is one characterized by strong cycles
Angie Tijerino
What is your role at Hiscox?
I am the new Business Development Manager for K&R Latin America team. In this role I work with a team of six who travel Latin America meeting brokers and showcase, we do presentations to brokers by offering them a solution through our Hiscox Secure product as a mitigating and risk transfer solution to an ongoing problem for them and their clients.
What has been the highlight of your career so far?
Working with, developing and growing long term relationships. I have been having these relationships over the course of 20 years that have spanned from generation to generation in some cases has been very gratifying and important to me.
What is the most rewarding part of your role? 
The most rewarding aspect of my role is interacting with people all over Latin America. I enjoy mentoring others as it is a great feeling helping your reports achieve success and developing new talent in the sales world. It's incredibly rewarding to see our hard work throughout the division pay off year after year after facing challenges with new market trends and client difficulties. 
Lorena Fernandez
What attracted you to Hiscox?  
Hiscox is a great place to work! You find that there is genuine care for the employees and there is career path for everyone to work towards.
What are the most pressing issues in your current role?
Ensuring to provide consistent and best possible service to our clients. It is very important to us that our clients have an excellent experience with the services we provide - something we strive for every day.
What 3 words would you use to describe being part of the K&R Latin America team? 
Exciting, ever-evolving and resilient.
Yesenia Vaz
What inspired you to join the insurance industry?
I knew that a career in insurance would be awesome! I have been working in the insurance industry for around twenty years now and have built great relationships with the brokers and clients, which is my favourite part of being in this field.
What do you love most about working in the K&R Latin America team?
I love working in the team because it feels like we are all one big family. We respect each other and help one and another out in tough situations.
What has been the best skill that you have picked up since working at Hiscox?
The best skill that I have picked up is knowing how to communicate with different audiences. I am able to connect better with  peers and now know how to express ideas and thoughts clearly. 
Naelen Borras
What should someone know about you that isn't on your CV?
I am a first time mom to a healthy and beautiful baby girl, and I also love dogs! At home we have a fun and energetic Boxer named, Cooper. Some of my favourite things are watching documentaries, outdoor activities, interior decorating, traveling and tasting new foods.
What advice would you give to someone starting out in insurance?
Knowledge is power! Educate yourself on both product and insurance markets. My second piece of advice would be to find a good mentor. Someone who will be able to provide guidance, motivation and the feedback you need to thrive in your career.
What are the most pressing issues in your world currently?
In the LatAm market, selling a special risks policy is difficult to do and involves a lot of effort. One of the key issues we are facing is increased competition in what seems to be a never ending soft market. To add, the Covid 19 pandemic and now Ukraine and inflation, puts a downward pressure on prices. We are constantly having to improve, match or be ready to let go of an account.
Ivonne Lopez
What is the most interesting part about being in the K&R Latin America team?
I thoroughly enjoy learning about the industry from my team who have been in the field for over 10 years.
How would you describe the K&R Latin America team in 3 words?
Supportive, challenging and kind.
What is the most interesting part of your role?
Getting to know the different challenges that our producers face in different countries and working with the team to help best serve them.
Elman Myers
What has been your biggest achievement so far at Hiscox?
After 25 years in the insurance industry, I take great pride in having been a key member of teams that have helped hundreds of families and companies manage crises in Latin America.  We have been by their side when they have needed assistance.  We have helped save lives. We have fulfilled our promise to pay, helping them put their lives and business back together. In short, we did right by our clients.
What are the big changes that you have seen since joining the insurance industry? 
Technology is so much more powerful now, enabling more efficiency, better decision making and more contact with people around the world.  Technology has also made information more readily available to everyone, making clients, brokers, and underwriters more knowledgeable and aware of risks and solutions.
What are the most important skills to be successful in a sales role? 
If I could sum up the skills needed to be successful in business development or sales, they would be:
Credibility – bring something interesting and unique to the table,  Why should the client listen to you? Know your skillset and be true to it.
Knowledge – really know your product and how to present it simply and clearly. Know what is going on in the world and be conversant in issues of interest to clients.
Active listening – listen, ask questions, really listen to their answers, pay attention, focus – be in the moment. 
Empathy – put yourself in the shoes of the client. What are they going through as a family, as a business? What are their concerns? How can I allay those concerns? How can I help them? It's always about the client.