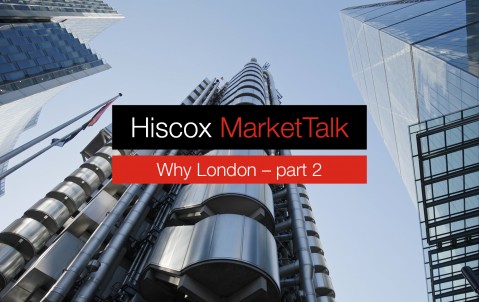 A change in working practices is key to making insurance an attractive career for young people.
The London Market needs to rethink how it works just as much as who works in it to attract the next generation of young people eager to find interesting and fulfilling careers, Clare Lebecq, CEO of the London Market Group (LMG) tells Kate Markham, Hiscox London Market's CEO, in the new episode of "Hiscox MarketTalk."
A refresh and modernisation of the London Market's working culture is essential if it is to attract millennials, , Lebecq says. They want a better work/life balance, more challenging and wide-ranging jobs and less formal career ladders, she argues. "These are all things that we haven't cracked yet," Lebecq admits. "I think we need to work a bit harder, because, if not, we won't be relevant to them…They're not looking for rigid, very siloed roles anymore."
Markham agreed, adding: "we need to allow people to take a risk on themselves…which, given that we're in the market of risk…we should be able to do."
Big strides
The first "London Matters" report, published in 2015, pointed to the London Market's monoculture as being an increasing brake on its future success, and a key reason for why buyers thought it was less innovative than in the past.  Although the London Market has a long way to go, it has taken big strides to shed its 'white, male and stale' image, Lebecq and Markham agreed.
The London Market Group (LMG) has been actively trying to attract a broader range of young people into the business. Its London Insurance Life campaign has for the past three years been publicising the varied careers on offer at universities' and schools' jobs fairs, winning a string of industry awards along the way. The initiative is driven by 130 volunteer ambassadors - young insurance professionals -  who promote careers in the industry through a social media campaign which Markham hails as "that lovely sort of bottom up sustainable model which we can keep going."
The LMG has also done research on what new skills will be needed in tomorrow's London Market, as well as how it can lure young people with sought-after tech expertise, like data engineers, scientists and analysts, into working in the market. It has also worked on how to retrain some of those who already work in the industry to take on these new roles – a task Lebecq says she is "really passionate about".
Broad vs narrow
The next generation of London Market professionals will need to have a deep understanding of the industries they serve as well as of the insurance business. A broad base of knowledge is better than a narrow insurance expertise, the LMG's research on the future workforce concluded.
Markham concurs, saying "we talk a lot [within Hiscox] about business insight and that broader perspective…how do you give people the opportunity to develop that earlier in their career? Whilst they may want to build very, very deep technical skills…we need that broader view."
To ensure they're offering the solutions clients need, Lebecq says, tomorrow's insurers and brokers need to "know the journeys that they [clients] are going on from an operational and business perspective…You need those valuable insights to be able to then come back to your own shop and say: 'Look, this is what's happening in that industry. We need to start seriously looking at what we're offering them, otherwise we're not going to remain relevant anymore.'"