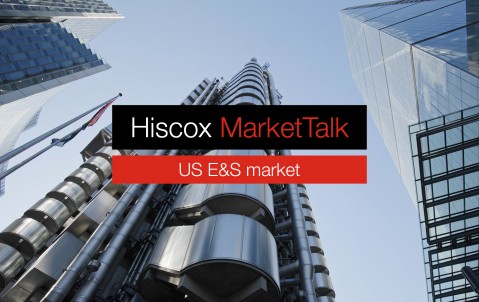 "I'm bullish on Lloyd's" – London has an opportunity to grow its E&S presence
But the market shouldn't slacken its pace on the development of technology, or blur its focus on the client experience says AmWINS Access' Tony Gresham
Lloyd's is well positioned to take advantage of recent firming in the US excess and surplus (E&S) lines market, says Tony Gresham, President of AmWINS Access, but it will need to keep pace with collaborations around technology needs and process to take full advantage of the opportunities offered in this space.
"I'm bullish on the Lloyd's market. I think that as returns improve and as discipline returns to the marketplace, the market will have an opportunity to expand capacity and grow," says Gresham. "The quality of the product that will be generated by the MGAs from the US will be significantly enhanced, not just because it was necessitated in order to continue to have those relationships, but because the tools that are necessary to create that evolution have matured."
The 'esoteric' 1960s coverages
Talking to Simon Morgan, Divisional Head of Property, Hiscox London Market for the latest edition of Hiscox MarketTalk, Gresham explains the US E&S market's roots stretch back to the 1960s, when it really began to pick up some momentum. Back then, he says, it looked very different from today's market with some "very esoteric coverages such as umbrella and excess liability, and liquor liability."
A US$12bn business for Lloyd's
Over the years, adds Gresham, more avenues that have a need for E&S have opened. "The market has naturally expanded. [And now] the E&S market comprises somewhere just shy of 10% of the overall P&C insurance market." To give that some financial context, says Morgan, "The surplus lines industry is [worth] about US$50 billion and in 2018 Lloyd's wrote US$12 billion."
Hardening…but not everywhere
Against a backdrop of widespread firming rates across many traditional lines, the movement on rates for the E&S market is more nuanced. "I think the easy answer is we're in a firming, if not a hard market, in certain segments, but … the availability of data today … will likely flatten the overall volatility of the marketplace. Now we can see areas much more clearly that are under stress in terms of providing adequate returns that we couldn't previously," says Gresham. Certain areas have got very difficult, he adds, such as parts of Florida with regards to homeowners' coverage or wildfire issues in California – "that is as hard of a market we've ever seen" – and solutions are very difficult to come by. But then there are other segments of the industry that continue to be very competitive Gresham says. "When I hear my Dad talk about hard and soft markets that predated me in the industry – so pre mid-80s – it was the entire marketplace moving. And in my early experiences in the late 80s, and 90s and to a degree, but not through 2001, the market moved as a whole. But now we see it moving in smaller pieces and lines of business in specific territories."
A focus on profitability has boosted capacity
Looking ahead to the opportunities for London in US E&S, Gresham sees that, primarily in small property binder business, the focus on profitability in the London marketplace has created a production of capacity into the US market. "We've been able to leverage that as an opportunity to reduce Total Insurable Values, increase overall pricing to get to a better return profile. And hopefully, we're going to be able to grow that into greater opportunities for London as we go forward."
Don't slow the pace of change
The pace of change around the use of technology cannot let up however, if Lloyd's has ambitions to continue to play a big role in the US E&S market concludes Gresham. "Lloyd's has a lot of initiatives under the Blueprint with regards to technology. All of that is welcomed. I know that we as AmWINS have participated in a number of collaborations around technology needs and the process, and what the flow of that technology should look like. The admitted market is decidedly ahead in that regard. Most of our carriers today are leveraging some form of APIs in order to share data with us or to accept data from us.
"That creates a tonne of flexibility and efficiency in our environment. And frankly, we tend to defer to markets that are able to support us in that way." In addition, the Lloyd's client experience will need to keep improving, concludes Gresham, "so that when we have events that unfold, our policyholders have a reasonable expectation in terms of getting their claims paid and so on."