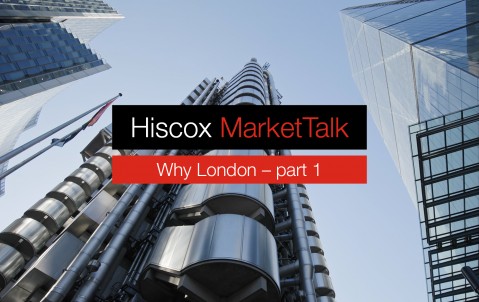 London doing well in market flux
Despite challenges, the London Market is in good shape, says LMG CEO 
Despite a tough economic environment, the London Market has consolidated its position as the world's largest underwriting centre, with new business continuing to flow into the capital,  explains Clare Lebecq, CEO of the London Market Group.  
London has grown its commercial business by more than 8% each year since the 2017 edition of the 'London Matters' report, Lebecq told Kate Markham, CEO of Hiscox London Market, in the latest episode of "Hiscox MarketTalk". "We've grown significantly over the last few years in cyber, where we've been so instrumental in creating policies and wordings for clients…Also, in the areas of high excess and high limit D&O, we've grown a lot in that casualty financial lines space, [as well as] in transport, with lines like construction and medical malpractice and also commercial residential."
Mixed picture in reinsurance
London's share of the reinsurance market has shrunk to 12.5% of the global market in 2018 from nearly 15% in 2015, according to the London Matters 2020 report, the latest snapshot of the market taken between 2015 and 2018, commissioned by the LMG. There are "multiple different factors" contributing to this shrink, says Lebecq. Some governments have put limits on the amount of reinsurance its insurers can cede to foreign companies, but London's higher cost of capital than other underwriting centres is a big hurdle. "Reinsurance is capital intensive," Lebecq said, "We just can't compete with the likes of Bermuda or some of the ILS players in terms of cost."
But, London is fast becoming a service hub for reinsurance, Lebecq pointed out. There has been a 14% jump in business managed by London Market brokers but written overseas, the report stated. "The business is coming to London, and we're using our risk expertise but it's not necessarily being placed [here]. But, it still shows that we are a magnet for that kind of reinsurance business."
London's future is bright
Although London Matters 2020 is based on pre-COVID-19 figures, business has flowed even faster into London over the past six months, as both the large-ticket insurance and reinsurance markets have hardened. "I think some of the other markets are struggling," explains Lebecq. "Their appetite for some of the risks…is diminishing, and therefore it's flowing back into London where obviously our capital is risk hungry. Also, the choice…in London in terms of expertise, carrier and capital is enormous…And that is very appealing to clients."
The London Market, which contributed £37 billion to the UK economy in 2018 – up from £32 billion in 2015 – can play a key role in the country's recovery from the economic downturn caused by the pandemic, Lebecq argued. Public/private initiatives such as Pandemic Re and Black Swan Re are investigating how to mitigate the potential economic fallout from a range of systemic risks. "I think that's an important strand because that's…making sure that we don't get ourselves in a similar situation to have to recover, if you like," Lebecq said.
Old centre for new risks
Markham and Lebecq both believe London is uniquely positioned to develop new solutions to companies' changing needs and emerging risks, such as disruptions to supply chains, which effectively snapped in the global lockdown. Also, it needs to respond to the demand changes created by the 'sharing economy' to add more flexibility into its coverages, "because if we do get into a situation where, again, services have to be shut down, people want to flex their covers and not be tied in to a rigid premium payment when the risks aren't there for them to be covered," Lebecq argued.
Competitors in London, both brokers and underwriters, have come together "to drive change" in the market, Markham said, adding "It's been very refreshing."  Lebecq agreed, explaining that,  "One of the things that makes us so able to respond to these crises…is that we can collaborate when we need to and compete at the same time," "I think that is the essence of the London Market, isn't it?