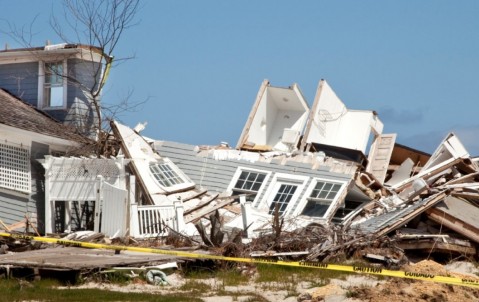 A costly Bill could be London's opportunity
A costly Bill and a deregulating US flood insurance market could be the opportunity for London to compete.
As the clear-up from Tropical Storm Bill continues – parts of Texas received more than 13 inches of rainfall and more than eight inches were reported in areas of Indiana, Illinois and Missouri – attention has refocused on the flood risk for many US homes and businesses. Even inland regions have suffered with Bill following hard on the heels of a very wet May which, according to figures from Aon Benfield, led to insured losses of $1bn in Texas and Oklahoma alone.
These latest floods, coming during a period of deregulation for the US flood insurance market, could mark a turning point for the London Market to see a much greater volume of US flood business, says Jonathan Powell, Hiscox London Market's Line Underwriter for Flood Programmes: "There is a huge opportunity for London to become a major player in the US flood market, provided we can overcome both the distribution challenge and also compete effectively when it comes to pricing and breadth of coverage."
Deregulating the US flood market
Since the late 1960s, most primary flood insurance cover, for both commercial and residential properties, has been provided through the US National Flood Insurance Program (NFIP). Since 1978, the state backed fund has paid out nearly US$50bn for flood insurance claims and related costs, with currently more than 5.3 million flood policies in place across the US. A poor claims history and inadequate pricing - the NFIP must offer cover regardless of the risk and is not always able to charge the appropriate rate - exacerbated by two very bad years in 2005 and 2012, however, have left the Federal Emergency Management Agency (FEMA), the government agency which manages the NFIP, owing the US Treasury $23 billion - a rise of US$3 billion from November 2012. This deficit has recently forced the US government to address the NFIP's inadequate pricing as well as finally opening the door to allow private insurers to compete.
The immediate advantage that the London Market can offer relates to the NFIP's restrictive terms and coverage. "Currently, NFIP residential cover is limited to $100,000 on contents and $250,000 on buildings. There are also other restrictions such as lack of cover for possessions that are damaged and lost. Having to prove ownership if your TV floats away during a flood can be very difficult," says Powell. "The challenge for the London Market is to provide a better product than the NFIP both in terms of pricing and also coverage."
Establishing an effective distribution channel is also going to be a puzzle to solve, comments Powell. "Homeowners are used to buying their cover from household names backed by the government's scheme. How will they react to being insured by a foreign company? Will the retail broker network continue to use the current three NFIP administrators or will they begin turning to wholesale brokers for a flood solution when the private market comes knocking? Whatever the scenario, we need to be ready to work our way through this evolving environment in order to maximise the opportunity in front of us."
Change people's buying habits
Of course the Write Your Own Carriers that no longer have to work with the NFIP might simply choose to hold onto the flood risk themselves. "It is probably going to take five years for the private market to get a real foothold in the US flood market, concludes Powell. "We have to change people's buying habits and make them comfortable to buy from London. That said it is becoming more evident to many US homeowners and businesses that, even if they don't live and work in a flood prone area, flooding can be a real threat. According to the NFIP, 20% of all NFIP claims come from people living outside mapped high-risk flood areas. Statistics like these should help drive the wider need for flood cover even for those not living and working in coastal areas, and could help generate a new source of premium on top of competing for NFIP's existing book."