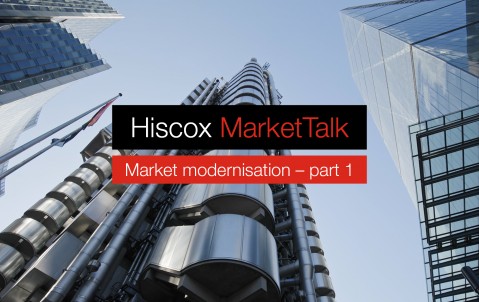 PPL use "through the roof" as pandemic accelerates market modernisation
Thousands more transactions go digital, but don't write off the physical trading experience quite yet
The use of PPL – the London Market's electronic placing platform – has gone "through the roof" during the pandemic according to Sheila Cameron, CEO of the Lloyd's Market Association. "PPL in June had over 12,000 transactions completed and risks bound," Cameron says, illustrating the acceleration to market modernisation caused by the pandemic and the enforced move to remote working.
It's an acceleration towards a digital marketplace for insurance that could be comparable to the change seen in banking since the 2008 financial crisis says Louise Smith, Chief Digital Officer at Lloyd's, joining Cameron and Hiscox London Market's CEO – Kate Markham for the latest in the Hiscox MarketTalk series.
"We saw the rise of the challenger banks and more people pivot to how they use mobile and how they use transparency of transactions, banking on the go and access to data," says Smith. "If you think about those core components which are let me own the data, let me do things for myself, let me self-serve, but also give me a place to have emotionally connected conversations…I think what we're seeing from an insurance perspective, is some of the same similar types of movements."
Physical or virtual – it shouldn't be a binary choice
The death knell for the physical trading experience shouldn't be sounded quite yet though, says Cameron, who feels the conversation in the past has been very binary. "It's been 'well the [underwriting] room is open or it's not', 'we have a room or we don't forever'. Or, 'you have electronic trading platforms or nothing'. What the market needs to achieve is a marriage of both."
A view underlined by Smith, who adds: "We have to be careful we don't swing left and then right. It's not all digital and it's not all physical environment and it's actually how do we combine data and digital with the physical environment to create something far more powerful?"
The development of the virtual underwriting room, elements of which were being discussed pre-pandemic, has certainly been advanced by remote working but again, argues Cameron, whether to dispense with the physical underwriting room itself makes the discussion too binary.
The best of all worlds
It's a wider debate that has the future of remote working at its heart says Markham: "I've heard this phrase, 'the best of all worlds'. How do we bring the very best of Lloyd's face-to-face trading with true digital remote working with the virtual room sitting in the middle and bringing those different worlds together?
"I haven't heard anybody say they want to go back to how it was. But there is a level of efficiency and a level of balance that I think you get by working from home for a number of days per week or per month…and I've not heard anybody say 'I'm going back 100%'. But there are things that people are missing."
The Future's bright
Turning to the Future at Lloyd's strategy, Cameron believes that Lloyd's has already done some good work around its three focus areas of PPL, delegated authority and claims, and thinks the market could "shout about this more." The discussions around Blueprint Two have begun, Cameron adds, but the key will be in the data. "What do we need to bind a risk, what do we need to quote a risk, what do we need to get all the way through, what do we need to start a claim." The launch of Blueprint Two is scheduled for November says an "excited" Smith, who concludes that the data will be "core to how we're driving [the project] through."